Why Site24x7 is great insurance against IT health problems
For expansive networks
Ensure all your devices are up and running by monitoring your network 24x7. Our cloud-based solution can scale to growing networks.
Improved application efficiency
Monitor REST APIs, as they help various applications and devices communicate with each other and share patient data for easy analysis.
Quicker access
Monitor and optimize the performance of IT resources so doctors and technicians can retrieve patient data for analysis in no time.
On-the-go treatment
Be it a CT scan machine or a patient administration system, receive instant alerts on downtime as text messages or simply use the mobile app for monitoring.
AI superbrain
Identify unusual spikes in performance and plan ahead with AI- and ML-powered insights. Prescribe remedies before your infrastructure's health deteriorates with IT automation.
Safe and secure
Site24x7 complies with all major security standards and regulations, including ISO/IEC 27001 and SOC 2, along with regional data center security standards.
Measure your patients end-user experience during telehealth services
Patients come face-to-face with websites during telemedicine sessions, remote admissions, and other forms of virtual care. Ensuring a seamless end-user experience in real time is crucial; to accomplish this, obtain the user experience score from real user monitoring. Monitor your website for its availability, domain expiration, URLs, web transactions, SSL certificates, REST API, ping, and more. Protect your reputation by watching out for website defacement and phishing attacks.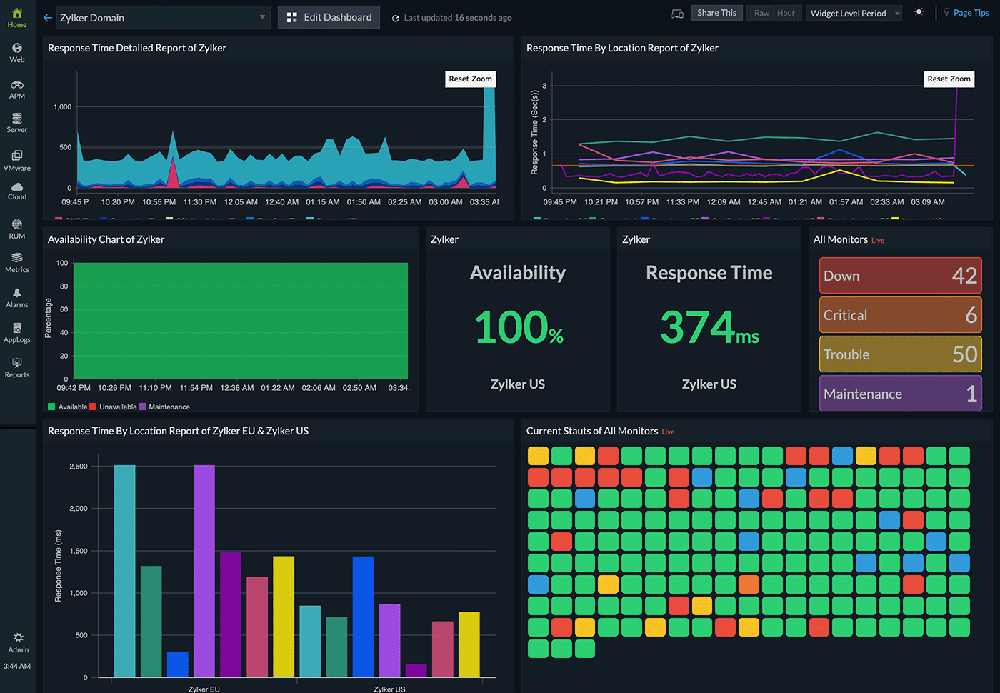 Stay on top of internal and external network connectivity
Hospital networks are vast and complex, with diagnostic equipment, data transmission devices, firewalls, and CCTV cameras. Track the connections between these devices and pinpoint outages directly from a network map. Drill down to the single interface that interrupted connectivity and analyze it using different performance metrics.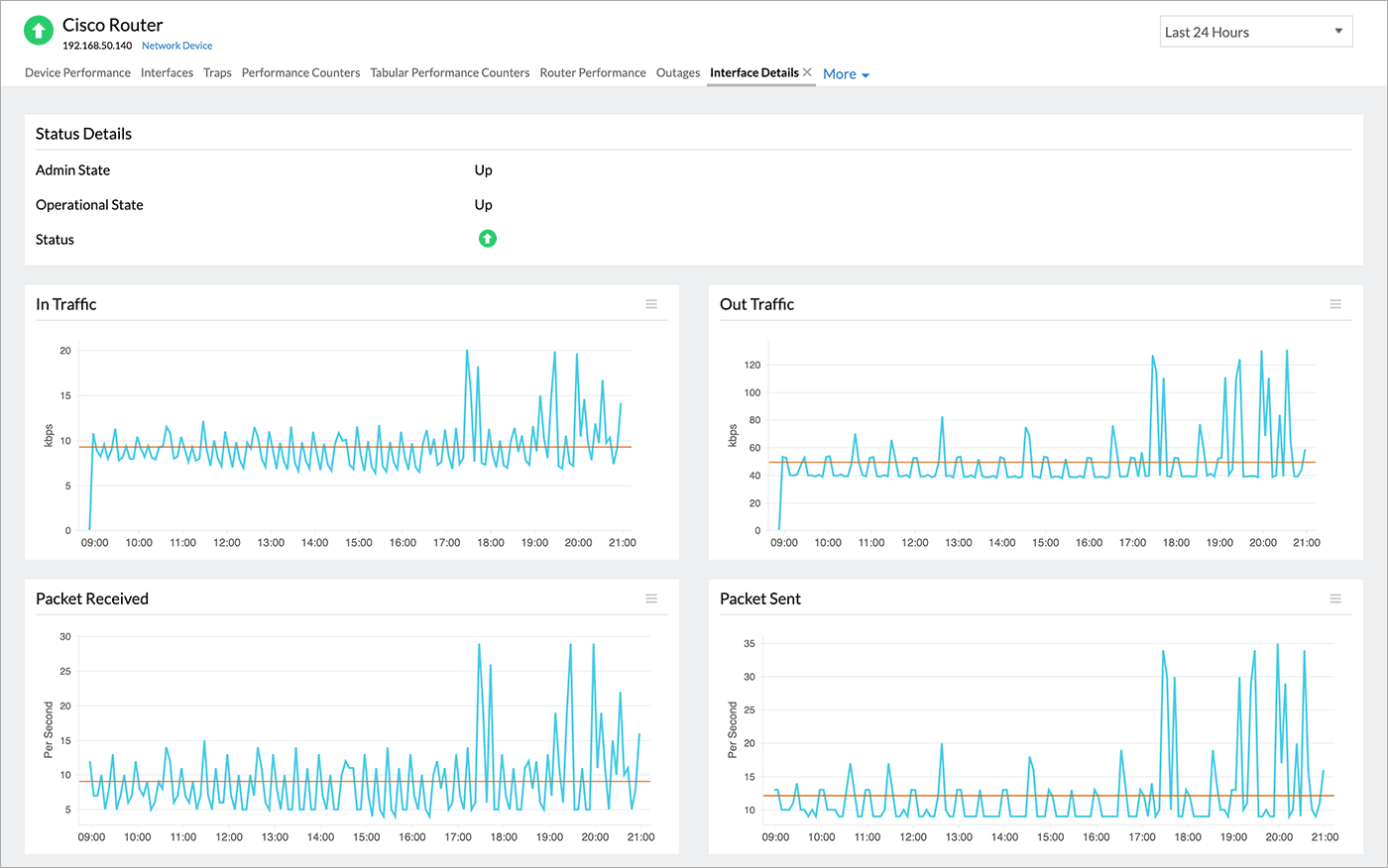 Monitor your storage space
Data from medical data informatics, adaptive trials, clinical research, labs, medical imaging, and records should be safely stored in physical and virtual servers, cloud environments, storage devices, or data centers, for even a minute variation can cost healthcare organizations a lot. Be it physical, virtual, or cloud storage, proactively identify outages and performance issues before they impact users. Use AI- and ML-powered insights to decide when to allocate more VMs and datastores, for instance in busy times like during the COVID-19 pandemic.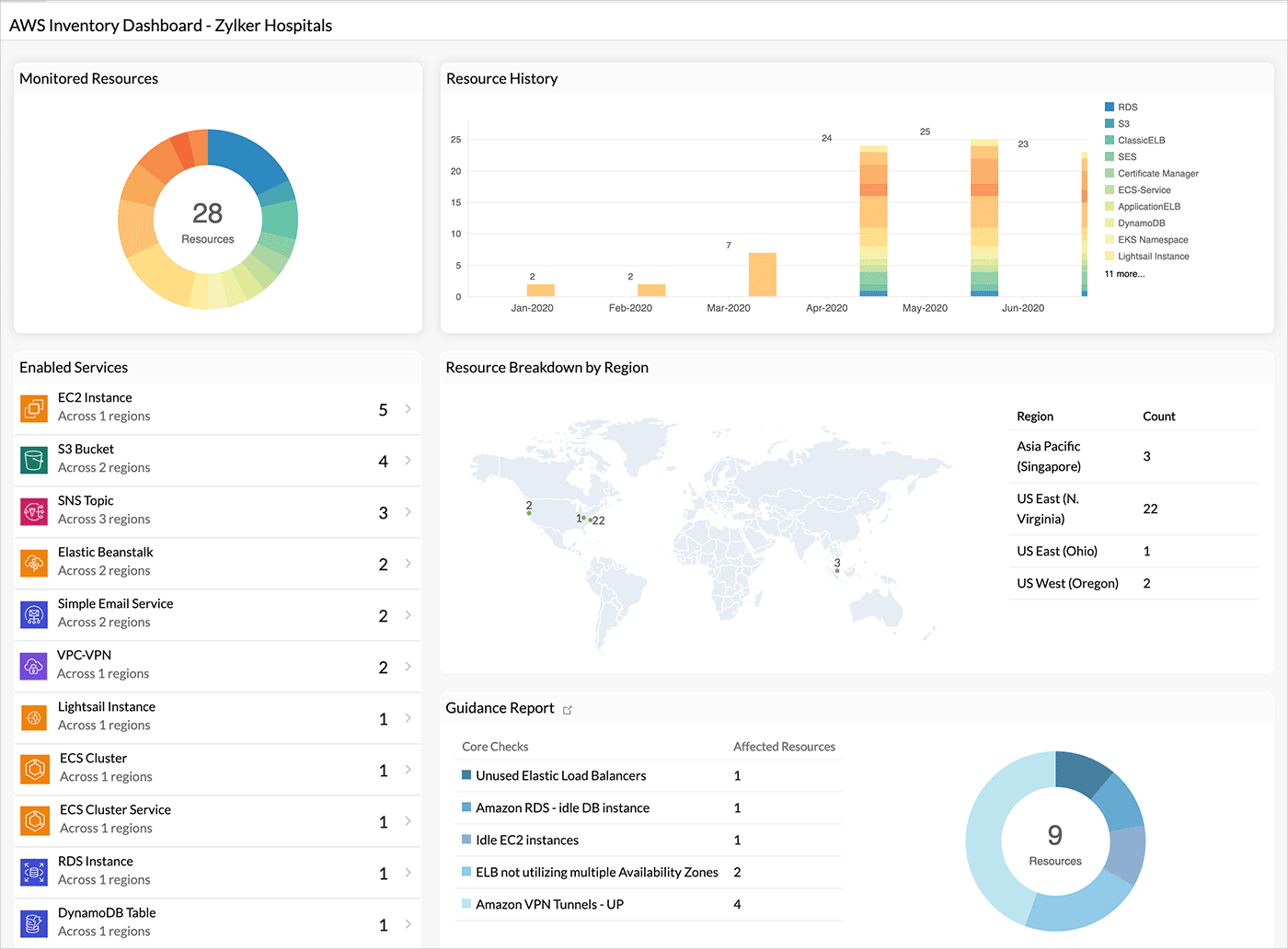 Identify and fix slow applications
Applications like electronic health record systems act as the neural system in a hospital environment, so they cannot be slow. Identify slow applications and the reason for slowness, like drawn-out database calls, unhandled exceptions, failed transactions, and delays from external components. Identify erroneous code directly from application logs.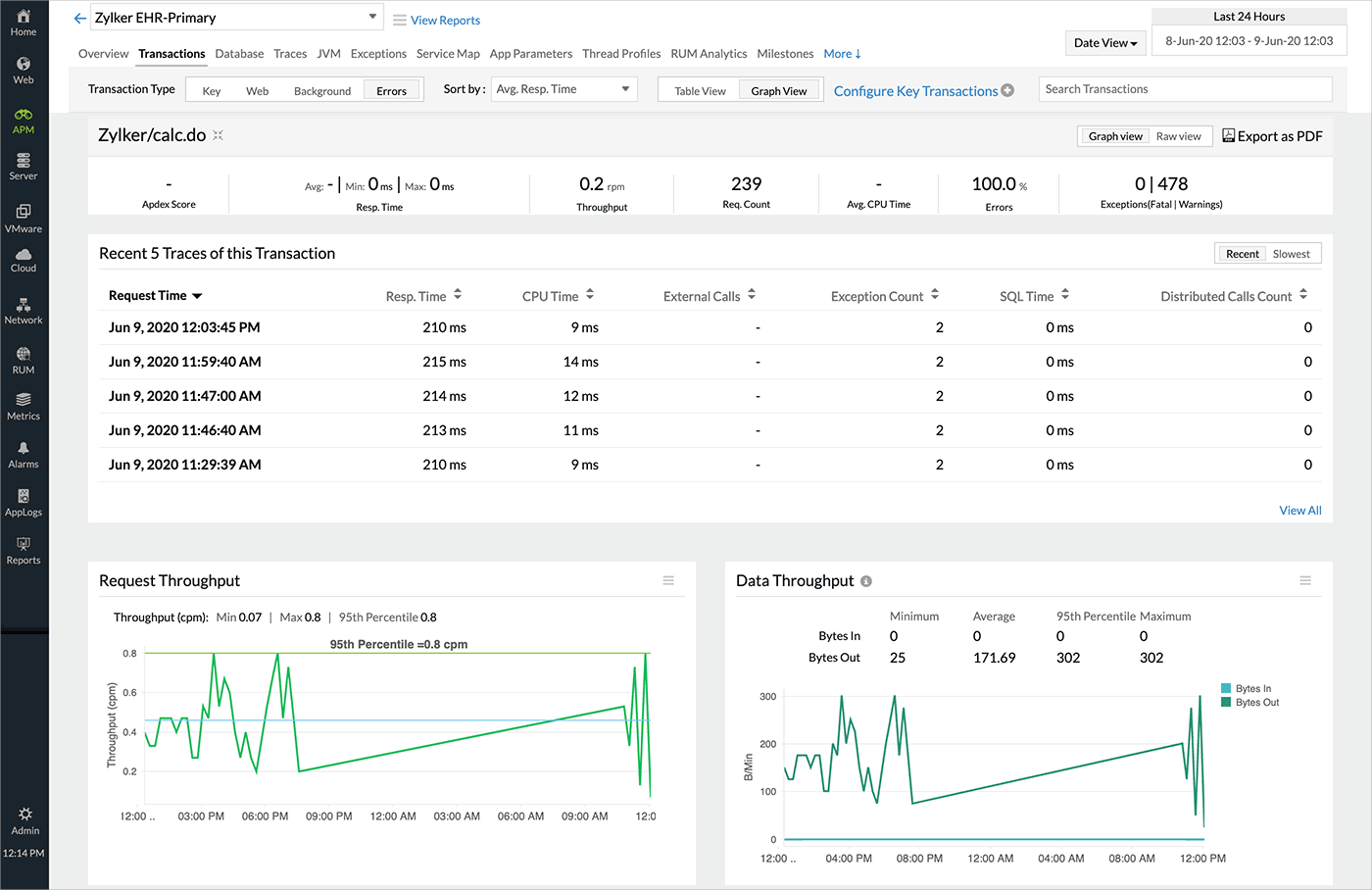 Grab your IT performance report
We understand how important it is to send reports to management in the formats they expect. Gather performance data on all your monitored resources and generate reports customized to your needs. Identify the trends over a stipulated period and apply your findings while drafting health policies and analyzing health economics.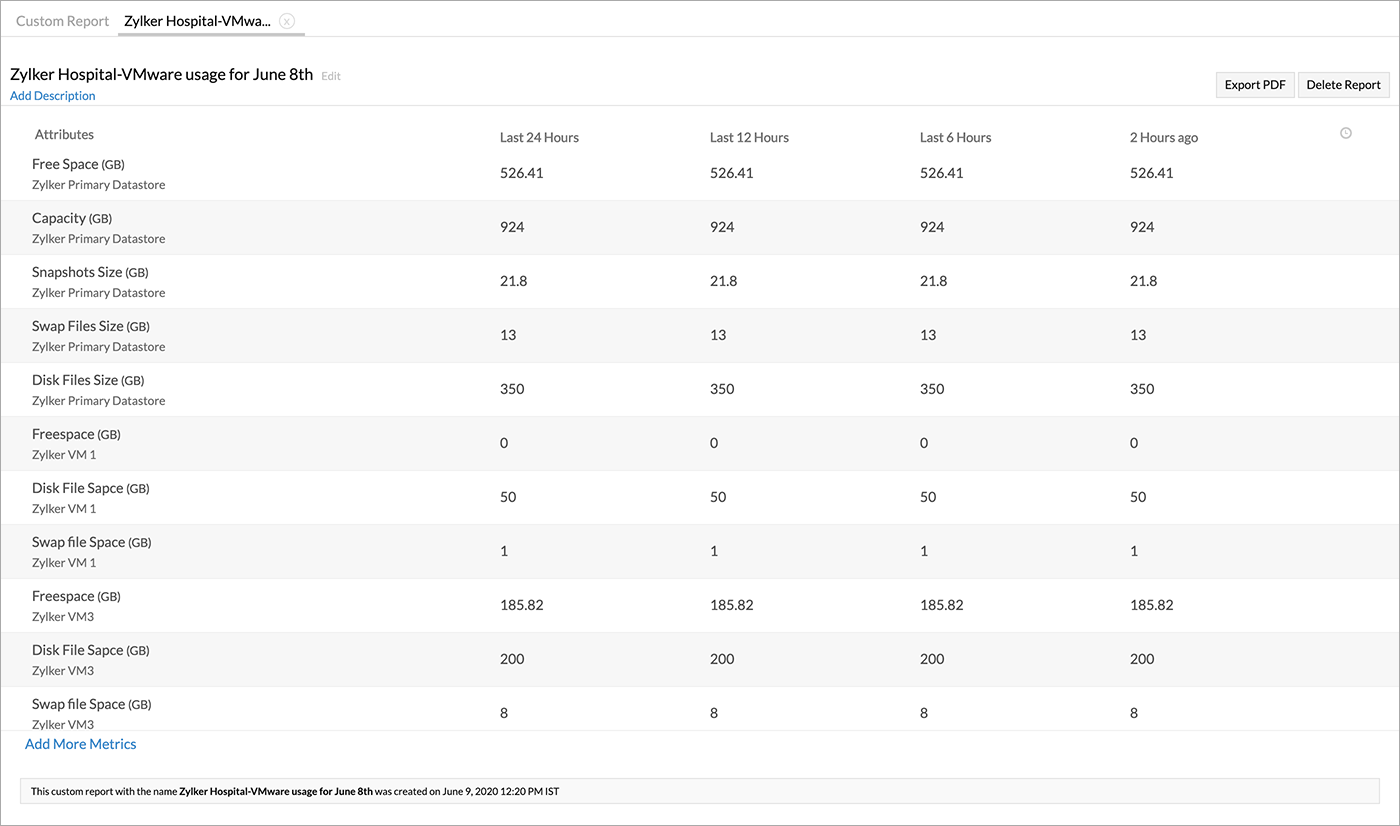 You're in safe hands
Site24x7's rich feature set has always surprised us, especially the custom dashboard and reports that we get using Site24x7 has helped us in identifying critical performance issues and address them before our teams are notified. Their friendly assistance during sessions and openness to feature requests makes us feel Site24x7 has been the best choice for all our monitoring requirements.
Chandresh Dedhia
Head – Information Technology
Ascent Wellness And Pharma Solutions Pvt Ltd
Site24x7 caters to the needs of more than 500 organizations from the healthcare sector. Want to ease the burden on your IT admins? Get a personalized demo focused on your monitoring needs.