Monitor sessions and host pools
Get visibility into critical metrics like active and inactive sessions and hosts in your Windows Virtual Desktop environment.
Monitor critical host metrics
Analyze the uptime status of individual session hosts, and keep track of system metrics like CPU, Memory, Disk Read/Write, and more of each host.
Detailed log analysis
Inspect performance issues by analyzing detailed resource and audit logs with insights on the total number of sessions and hosts, and the reason for downtime.
IT Automation
Detect unusual spikes or aberrations in critical metrics of your Azure WVD with Site24x7's AI-based anomaly framework, and auto-resolve performance and availability issues with IT Automation.
Monitor all your Azure services with our AI-powered monitoring tool
Virtual Machines (VMs)
App Services
Function Apps
Azure Gateway
Azure SQL Database
Azure Service Bus
ADM Health Check
Network Interfaces
Virtual Networks
Disks
View more services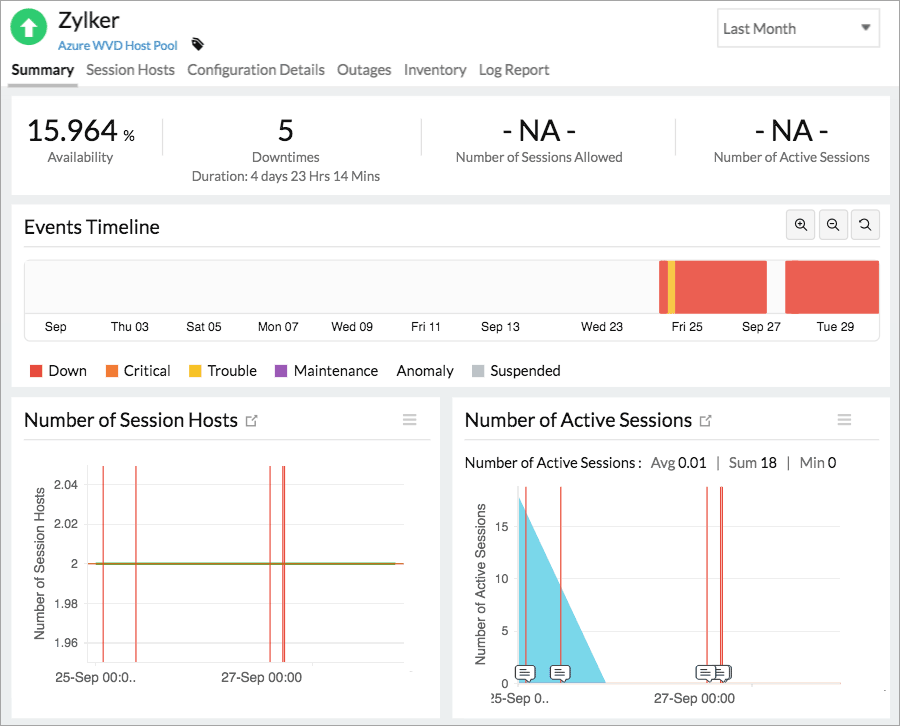 Complete insights into your Azure WVD infrastructure
Automatically collect and analyze data around your entire virtual infrastructure, and get insights into critical metrics like CPU utilization during sessions, identify trends in user activity, analyze peak loads, and keep tabs on storage space in individual hubs.
Deep visibility into individual virtual machines in each host
Get visibility into what's happening within each virtual machine in individual sessions to identify problems quickly and pinpoint the root cause. Track the availability and active sessions count of each VM and monitor critical metrics like CPU percentage, Network In/Out, Disk Read/Write, and more.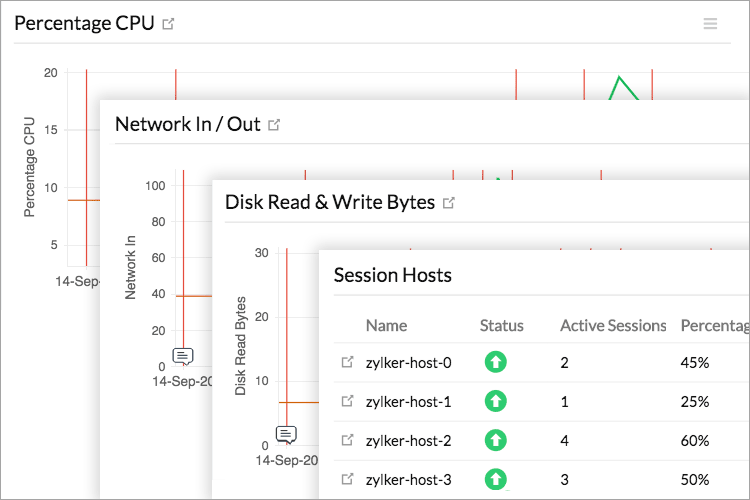 Full-stack monitoring for your Azure infrastructure.