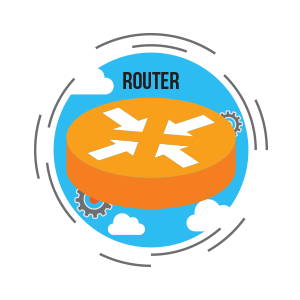 Comprehensive router monitoring from the cloud (SaaS).
Visualize and quickly resolve problems with accurate data on network activities and traffic sources. Monitor routers at interface level for their availability and performance for an in-depth Network Monitoring.
Sign Up Now

30-days Free Trial
Monitor the critical Network Metrics.
Site24x7 supports different vendors like Cisco, 3Com, Adtran, Juniper, Huawei, RuiJie, etc. and all their respective performance attributes can be monitored.
Active session count
Memory utilization
Undersize packets
Oversize packets
Buffer failures
CPU usage
Input packet drops
Output packet drops
Interface collisions
Open files or sockets
Total number of collisions
Interface in giants
Drop events statistics
Jabber packets
Backplane utilization and more
Router Performance Monitoring for your complex networks.
Get more than just performance data.
Scalability
Scales to monitor 1000's of network devices.
Network discovery
Add multiple devices in one go by using an IP range.
High availability
Ensure high network availability by optimizing bandwidth allocation.
Periodic data
View daily, weekly, monthly, yearly, or customize data to your needs.
Deep visibility of your network activities.