Get complete visibility into your AWS VDI
Ensure seamless experience while remotely accessing your AWS VDI by monitoring the session launch time, in-session latency, and failed connections. Plus, schedule automation to perform WorkSpaces actions and keep a check on the WorkSpaces bill.
How many users are logged in?
How long did the user take to log in to the AWS WorkSpace?
How many attempt is each user taking to log in?
Are there excessive disconnects on the virtual desktop?
How do you obtain the usage report of each WorkSpace?
Monitor cloud desktops, and improve the user performance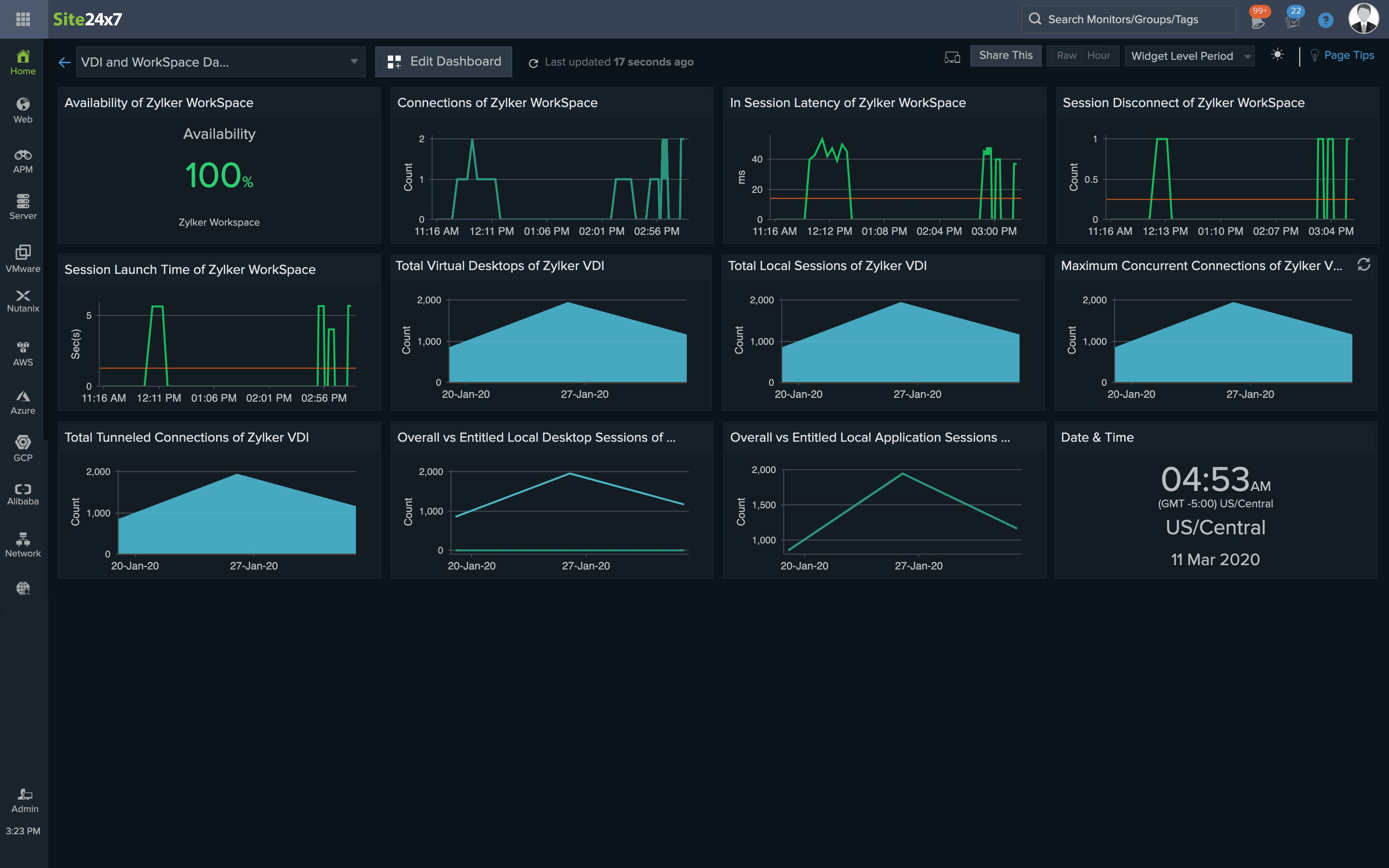 Troubleshoot WorkSpaces faster
Logging your WorkSpaces API using CloudTrail logs enables you to view the activities taking place in AWS VDI, like client logs. Expedite root cause analysis by collecting the historical data and monitoring those CloudTrail logs, and stay on top of Amazon WorkSpaces.
Auto-resolve availability issues
Detect unusual spikes in the critical metrics of your AWS WorkSpaces with the ML-based anomaly framework. Configure automations to start, stop, reboot, and rebuild your WorkSpaces to stay on top of system errors and auto-resolve availability or performance issues.
Adopt best practices
Leverage built-in best practice recommendations with information on unused instances that help you cut AWS costs. A deficit in WorkSpaces can negatively impact the end user experience and can result in wasted resources. Monitor the user login sessions and the number of users connected to analyze the user sessions in AWS VDI.
Monitor WorkSpaces security
Identify anomalies and detect outliers over a period, and understand any malicious activities by tracking the number of failed connections and the connection attempts. Take WorkSpaces security a step further by securely storing the keys in AWS Key Management Service (KMS), and monitor both the services efficiently from a single place.
Visualize with intuitive dashboards
Obtain high-level visibility into the monitored WorkSpaces, view best practice recommendations, and analyze a region-wise resource breakdown with the advanced inventory dashboards. You can also create a custom dashboard with key metrics to monitor the health and status of the Amazon WorkSpaces.
Analyze network issues
The AWS WorkSpaces usage report provides you with an overview of the status of different AWS VDI instances along with time series charts on session disconnects and available requests rejected by the WorkSpaces client. Get alerted when the in-session latency is abnormally high, indicating latent network issues.