Device performance and health analytics using our comprehensive HP monitoring tool
Automatically discover the HP devices and monitor your whole network with detailed stats on the status, availability, and performance of every HP printer, switch and wireless access point. Simply connect to your devices' SNMP MIBs to get started. Track the traffic of any SNMP device at the interface level and monitor all the key performance metrics for effective HP network performance monitoring.
With over 1,000 exclusive device templates for HP, performance monitoring has never been more comprehensive. Stay on top of outages with instant alerts on your mobile device for complete HP network management.
HP server monitoring: You can also monitor your HP servers using agentless server monitoring and HP iLO server hardware using our plugin integration. Site24x7 also monitors HP-UX, HP BladeSystem-SMC, HP DCM Controller, HP TMS ZL Module, HP DTC22, and much more.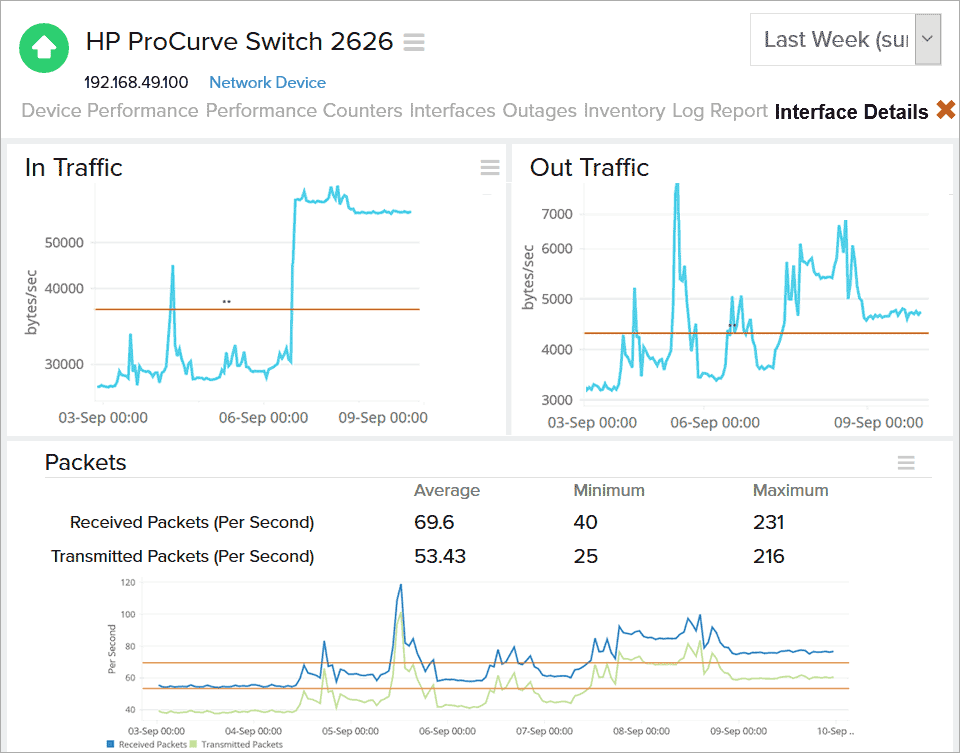 Simplify your HP hardware monitoring with performance metrics
Bandwidth Metrics
Total number of collisions
Memory Metrics
Disk utilization
Free disk space in GB
Free disk space in MB
Jabber packets
Memory utilization
Memory utilization (UCD SNMP MIB)
Number of fragments
Oversized packets
Packets received
Packets to BC address
Packets to MC address
Undersized packets
Used disk space in GB
Used disk space in MB
CPU Metrics
CPU utilization
Process count
CPU utilization (UCD SNMP MIB)
Partition details of the device (%)
Other Metrics
Associated mobile user (s)
Average marker life count
Out-of-the-box support for HP devices
In addition to supporting the following HP Devices, you can monitor 'n' number of them by creating custom device templates.
Switches
HP 2xxxx Series
HP 6120XG Blade Switch
HP 8xxx Series
HP Axxxx Series
HP ARUBA Series
HP AdvSwitch200x
HP BL p-class C-GbE2 Interconnect Switch
HP ETHERNET JETDIRECT
HP GbE2c Ethernet Blade Switch
HP JxxxxA Series
HP KVM 4x1x16
HP ProCurve Series
HP Proliant
HP Routing Switch Series
HP storage works MSL series
HP-Bridge
HP-Hub
HP-ProLiant Series
Hewlett-Packard 1/10Gb-F Virtual Connect Ethernet Module
Hewlett-Packard 105xx Series
Hewlett-Packard 1xxx Series
Hewlett-Packard 2xx0 Series
Hewlett-Packard 3x00 Series
Hewlett-Packard 5xxx Series
Hewlett-Packard 6125 Series
Hewlett-Packard 75xx Series
Hewlett-Packard E Series
Hewlett-Packard F Series
Hewlett-Packard HP 1905-24-PoE
Hewlett-Packard HP ProCurve Series
Hewlett-Packard MPX200
Hewlett-Packard ProLiant BL p-Class C-GbE2C Ethernet Blade Switch
Hewlett-Packard S Series
Hewlett-Packard V1910-24G-PoE (170W) (JE008A)
Hewlett-Packard VC Series
Firewalls
HP TippingPoint Series
Hewlett-Packard CR16008
Hewlett-Packard LSB1FW2A0
Hewlett-Packard LSWM1IPS10
Load balancers
HP Server Management Processor
Printers
HP DesignJet Series
HP Digital Sender Print Server
HP Jet-Direct Print Server Series
HP LaserJet Series
Hewlett-Packard xxxxx
Hewlett-Packard Officejet Pro 8600
RAID
Routers
HP H3CJ3303A
HP HSR6x0x Series
HP MSR Series
Hewlett-Packard CR Series
Hewlett-Packard MSRx0 Series
Hewlett-Packard ProCurve Series
Hewlett-Packard SR66xx Series
Servers
HP 3COM SUPERSTACKTR
HP ARCSIGHT DL380
HP BladeSystem-SMC
HP DCM Controller
HP DTC22
HP Onboard-Administrator
HP Proliant iLO 4
HP TMS ZL Module
HP cpqSm2ProdRILO4
HP-UX
Hewlett-Packard H3CJ2603A
Storage devices
Hewlett-Packard StoreEver Series
Hewlett-Packard StoreOnce 6500 Backup
Wireless devices
HP 10ag (J9141A)
HP Access Point Series
HP E-Msmxxx
HP Edge Zl(J9051A)
HP EdgeService Xl(J9001A)
HP Redundant Series
HP VCX7005
HP WXx00x
HP-n8xxx Series
HP-nLSU3WCMD0
Hewlett-Packard HP MSM Colubris
Hewlett-Packard MSM760
Tape library