Status Pages
Status page lets you share the current status of your services with your customers and end users. The status page helps bring transparency in communication and reduce calls to your help desk—additionally building customer confidence in the long term. With the additional domain verification in place—any possible sub domain takeovers of your status page is completely nullified.
You can always peek into Site24x7 Service Status page to view the real-time operational status of Site24x7's services including, APM service, REST APIs, Server Service, Site24x7 Web Client, and Site24x7 Website.
Contents
Add Status Page
Log in to Site24x7.
Click Admin > Share > Status Pages.
Click Add Status Page.
Specify the following details to add the status page:

Display Name: Provide a name for the status page.
Description: Provide a description for your status page.
Footer: Provide a footer name to be added at the bottom of the status page report.
Select Resource Type: Choose a resource type from the drop-down. Status of the selected resources will be shared in the status page.

Monitors
Monitor Groups
All Monitors

Mention the following details to access the Public Status Page on your own domain:

Domain Name: Provide the Domain Name to publish the Public Status Page. Follow the steps below to access the service status via this custom domain:

Create a new domain using which you can publish your service status.
Configure CNAME record (in your DNS Zone file) for the above domain and point it to site24x7host.com


For accounts hosted from site24x7.eu domain, the custom domain must be pointed to site24x7host.eu; from site24x7.cn domain, the custom domain must be mapped to site24x7host.cn; from site24x7.in domain, the custom domain must be mapped to site24x7host.in.

Configure the above domain in the Domain Name field under Status page view.
Within 15 minutes of configuring, you will be able to access the service status view via the custom domain.

URL Path: Provide the subdomain URL to enable access to your Public Status Page.

We suggest you to provide an HTTP(S) based custom domain name for accessing your Public Status Page. All existing HTTP based Domains will be auto-routed to HTTPS on our load balancer. It will impact the status pages, as it will show an SSL certificate error if accessed via the HTTP custom domain. Inorder to receive an SSL/TLS certificate for your HTTPS Domain, please contact

Site24x7 Support

.

Click Save
Modify/Delete Status Pages
You must first access the Status Page list view to enable modification or deletion of a status page. To access the list view, follow Admin > Share > Status Pages. In the Status Page list view, you can view all your Status pages, its Custom Domain name and the domain verification status.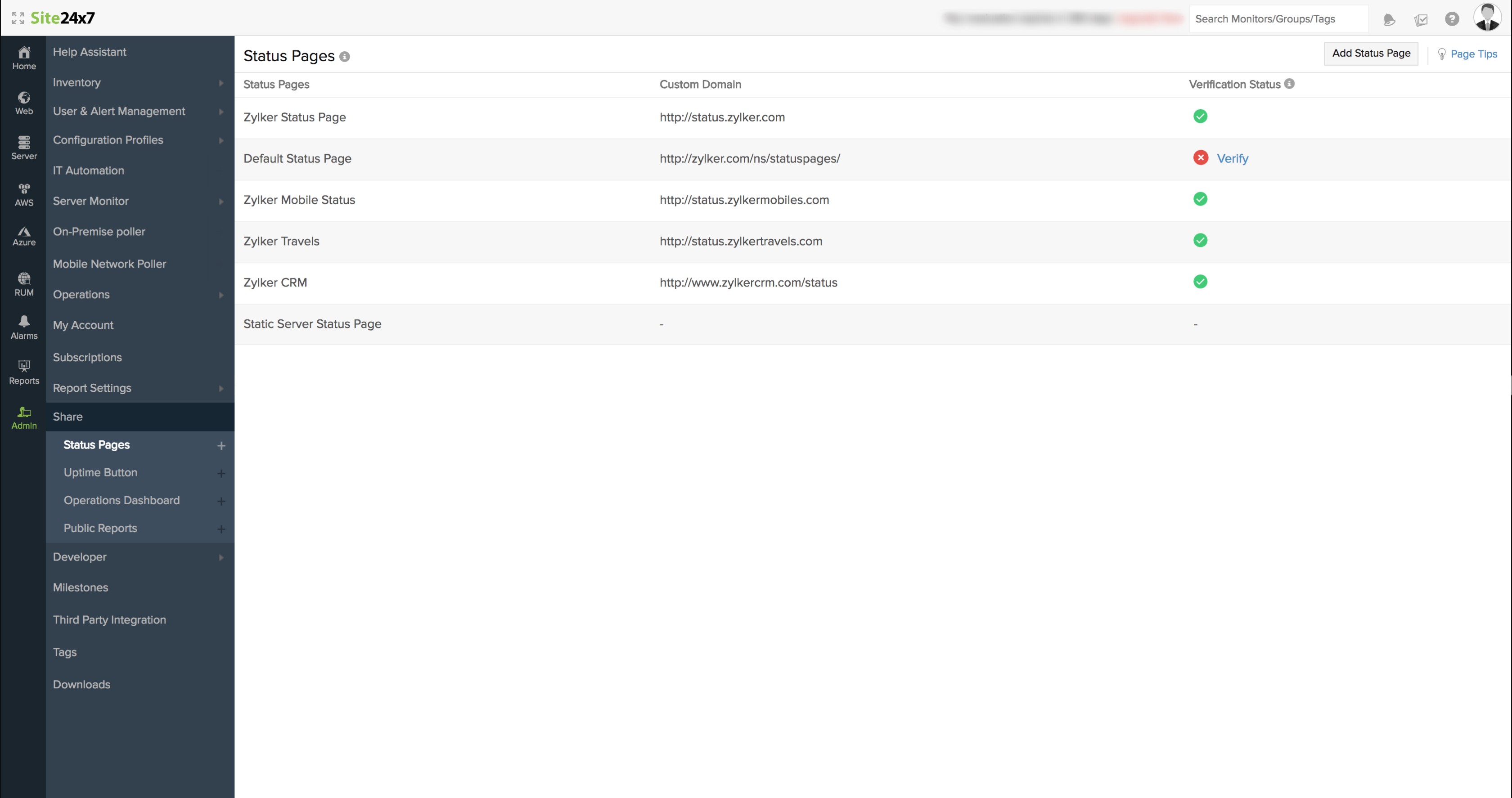 Once you click a status page (in the list view), the Integrate Status Page is prompted for you to make changes.
Meanwhile, you can view the following fields in the Integrate Status Page view:
Custom Domain: Highlights the custom domain name that you've created.

Domain Verification Key: Site24x7 mandates you to confirm your domain ownership only if you're planning to host your status page via a custom domain. A unique domain verification verification key is provided to help confirm your domain ownership. Here is an example for a Domain Verification Key that must be entered in the TXT value field: "site24x7-domain-verification=1234abcd5678EFGH". You've to add this whole string to your root domain's TXT records in your DNS management page. Learn how.



Verifying your domain ownership is mandatory as it allows you to safeguard your status page sub domain from being misused.
Any status page hosted on a custom domain with a failed domain ownership check will cease working immediately.




The above screenshot shows the Dig analysis result for the root domain zylker.com. The domain verification key can be seen entered in the TXT value field.

Site24x7 ensures domain verification by enabling a direct validation.
Direct Validation: After you've entered your Domain Verification Keys in your DNS TXT records, you must manually validate your domain by clicking the Domain Verify link in the Integrate Status Page. In case of a failure, you can still access the Verify link from the Status page list view. The status page can't be created on mismatch of domain verification keys in your DNS records.
You're required to validate the root domain of your custom domain.
For example, if your custom domain name is status.zylker.com/ns/services, then you must enter the domain verification key in the DNS TXT records file for your root domain "zylker.com." Read more.
The verify link will be shown only when you've successfully done a CNAME maping of your custom domain.
Verification Indicator
Domain Ownership Status
 

Successfully matched the DNS TXT records to confirm the domain ownership.

 

Unable to match the DNS TXT records, hence the domain ownership check has failed.
You can't access the status page via the custom domain anymore.
Click Edit to make amendments to your status page. You can click the Delete button to delete the status page permanently.
Interpret Status Page
You can view your various monitor status like current availability, maintenance, and downtime inside your web client home screen. You can also obtain insights on performance oriented data like the response time of a monitor. Additionally, it provides details about the scheduled maintenance periods, availability percentage, RUM based end-user status map, and incident status history of these monitors for a specified period of time.
Some of the key facets of the public status page includes: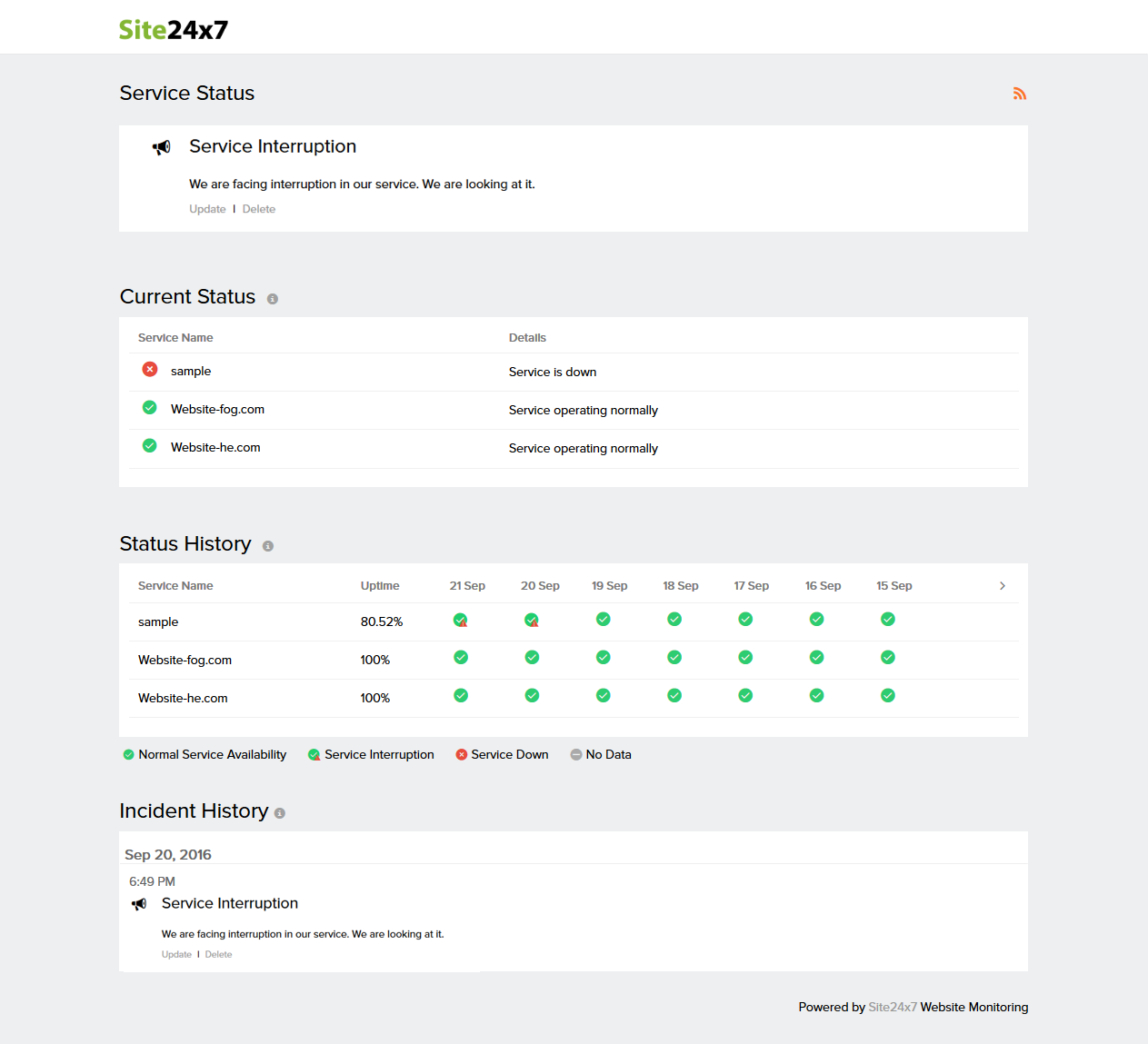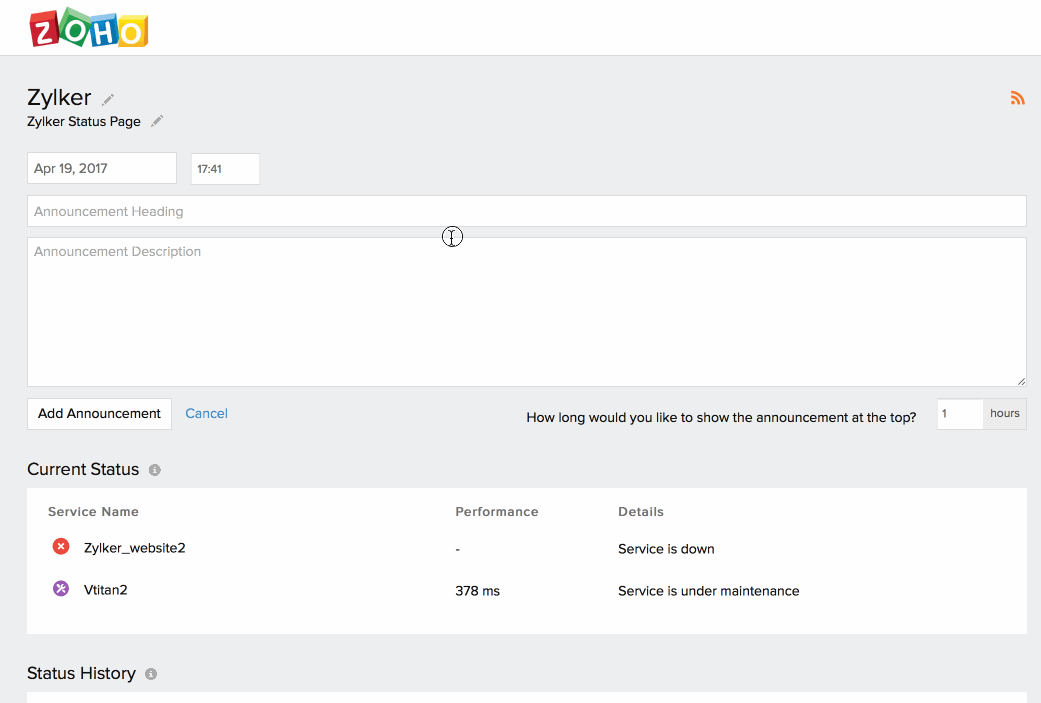 Use Case: Reduce Calls to Help Desk using Site24x7 Status Pages