Integrate ServiceNow with Site24x7 App
Using the Site24x7 App in your ServiceNow platform will empower you to
Monitor the system metrics of your servers from the ServiceNow Console
Perform corrective actions from ServiceNow console's Incidents Tab
Know the current status/availability of your servers from within the ServiceNow console
To integrate your ServiceNow account with Site24x7 for monitoring your Windows and Linux servers, follow the steps below:
Go to the ServiceNow Store and click Get to install the Site24x7 app.
Log in to your ServiceNow portal using your credentials and navigate to Site24x7 > Setup. Here, you will have an option to either Integrate with Site24x7 or Create Site24x7 Account.
If you don't have a Site24x7 account, select Create New Account. 
Click Integrate with Site24x7 and copy the Redirect URL displayed.

Log in to the Zoho Accounts Developer Console and create a new OAuth Client. Choose Server-based Applications as the Client Type. Provide the Client name, Client domain, and paste the Redirect URL.

Copy the generated Client ID and Client secret. Paste the copied information on the ServiceNow console.
Click on Generate Access Token and log in with your Zoho credentials to provide access to the app.
Site24x7 will be successfully integrated with ServiceNow. Once Site24x7 is integrated successfully, search for Servers in the left search bar and perform the following actions.
Server Performance Metrics
Click on Get System Metrics in the top band of your dashboard. If the agent is already installed, you will be able to view the performance metrics. If not, follow the below steps to install the agent. 
Choose the desired OS platform: Windows or Linux. You can also choose to install the agent in multiple machines in one go using one of our bulk installation methods. Follow the instructions given in the Site24x7 web client to install the Windows/Linux agent.


Once the agent installation is complete, click on Get System Metrics to view the performance metrics for your servers.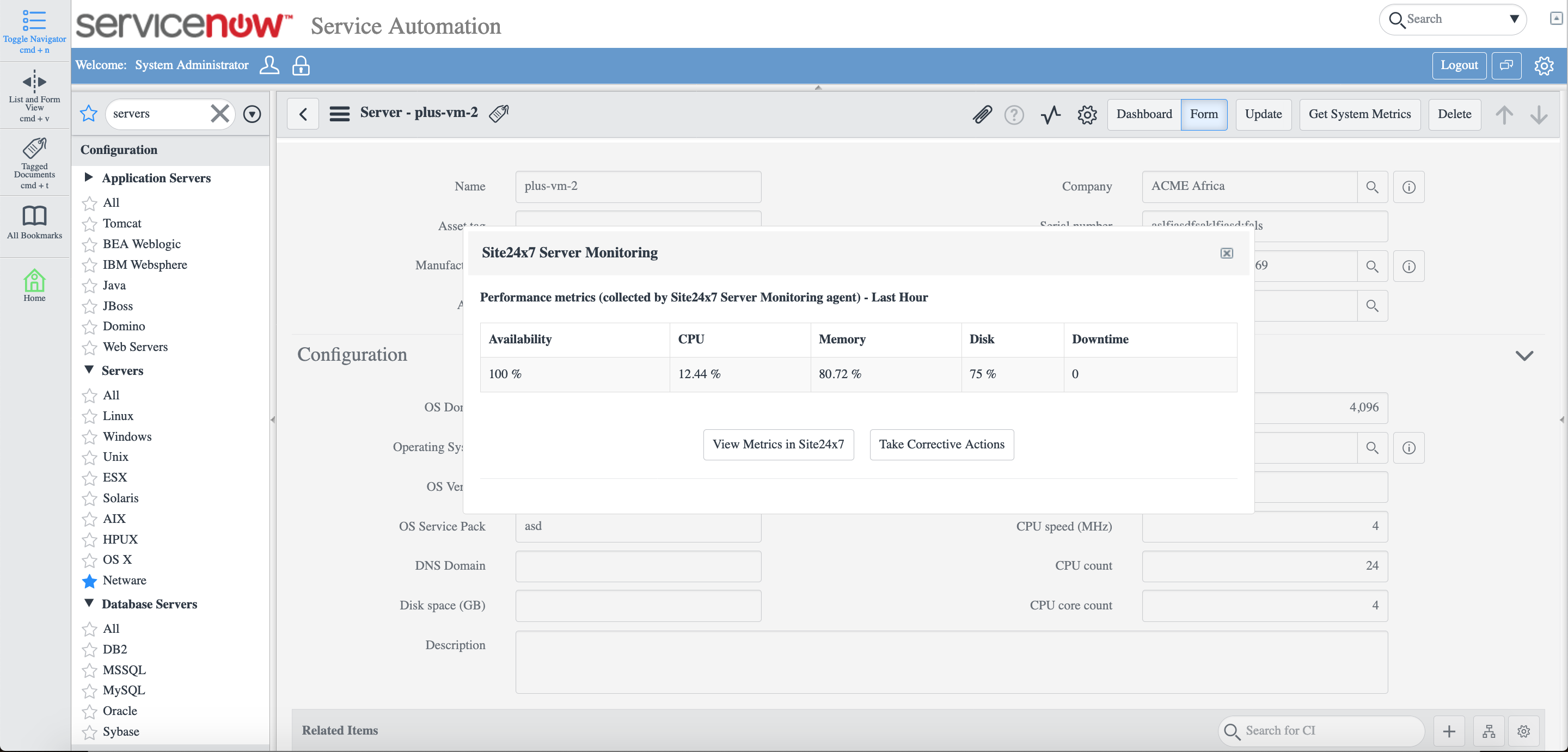 To view exclusive reports, set thresholds for each of these metrics, and perform more actions, click on View Metrics in Site24x7. This would take you to the Site24x7 web client.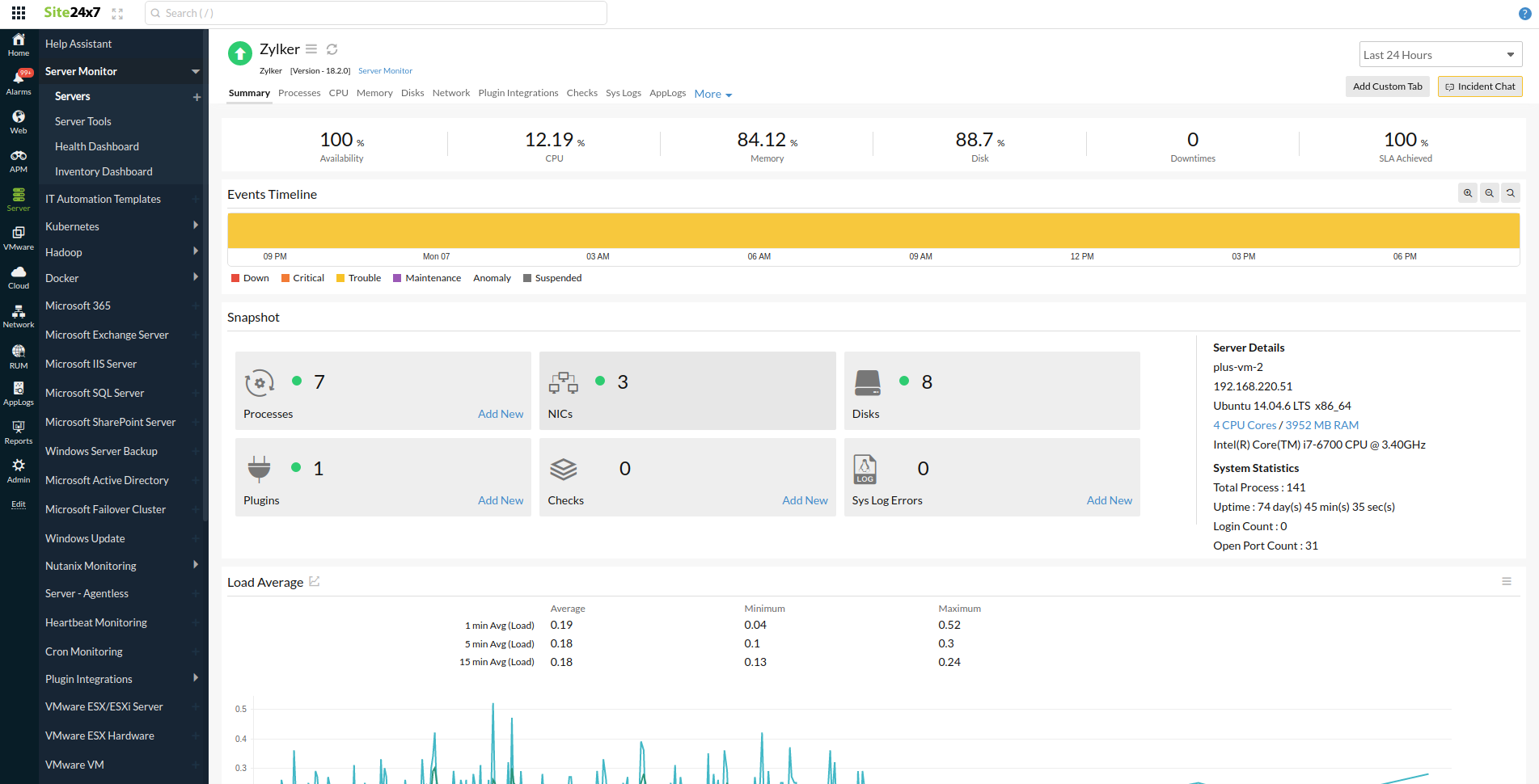 Corrective Actions from ServiceNow console
You can associate Site24x7's IT Automation for automatic fault resolution by clicking on Take Corrective Actions in the system metrics pop-up window. If you don't have one yet, add an automation.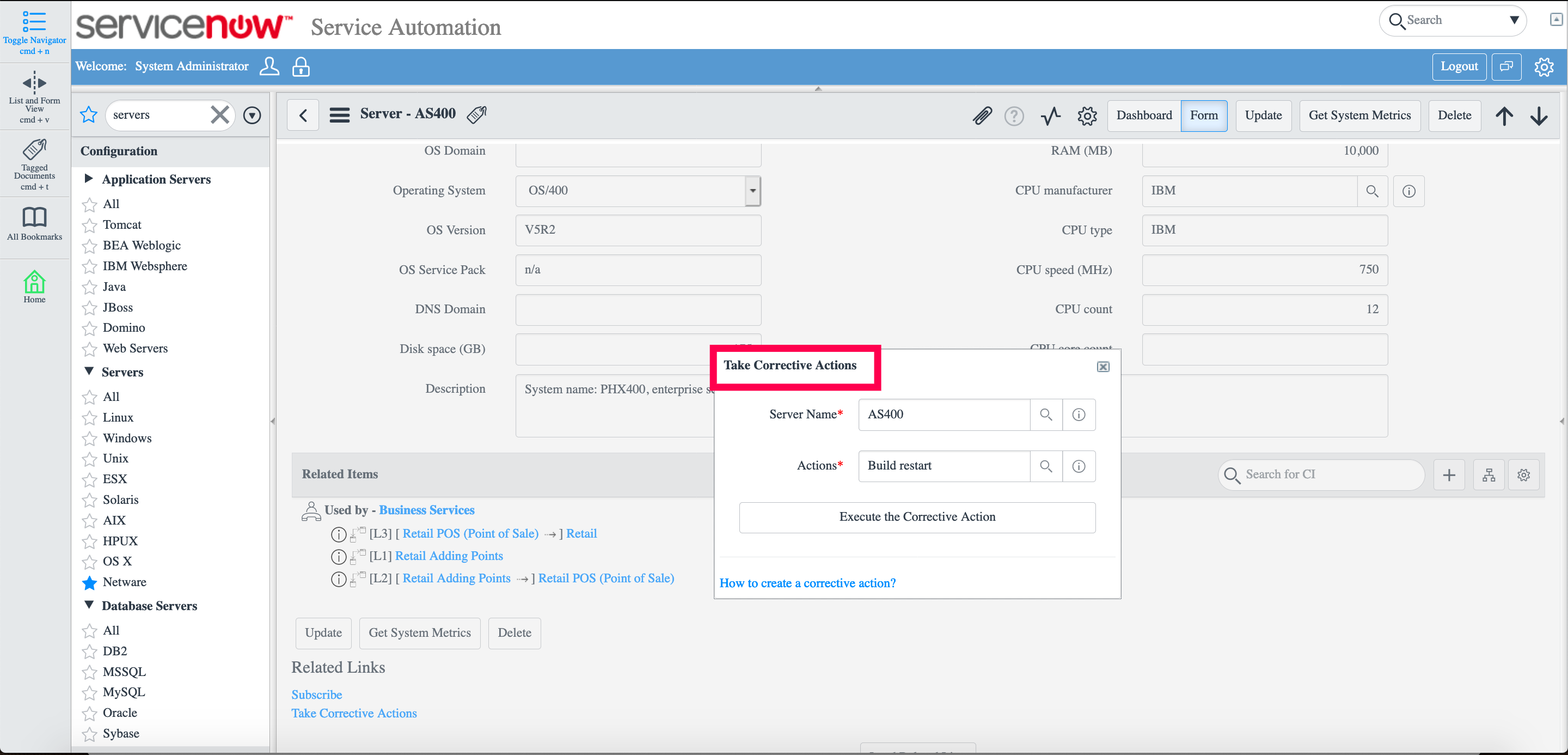 Now, you can monitor the performance of your servers and get accurate metrics from within the ServiceNow console.
Related Articles