Azure Dashboards
The Site24x7 Azure monitoring tool enables you to monitor your Azure resources and gain insight into your Azure environment using exclusive dashboards. You can also create custom dashboards and detect critical anomalies beforehand using the Anomaly Dashboard.
Service View: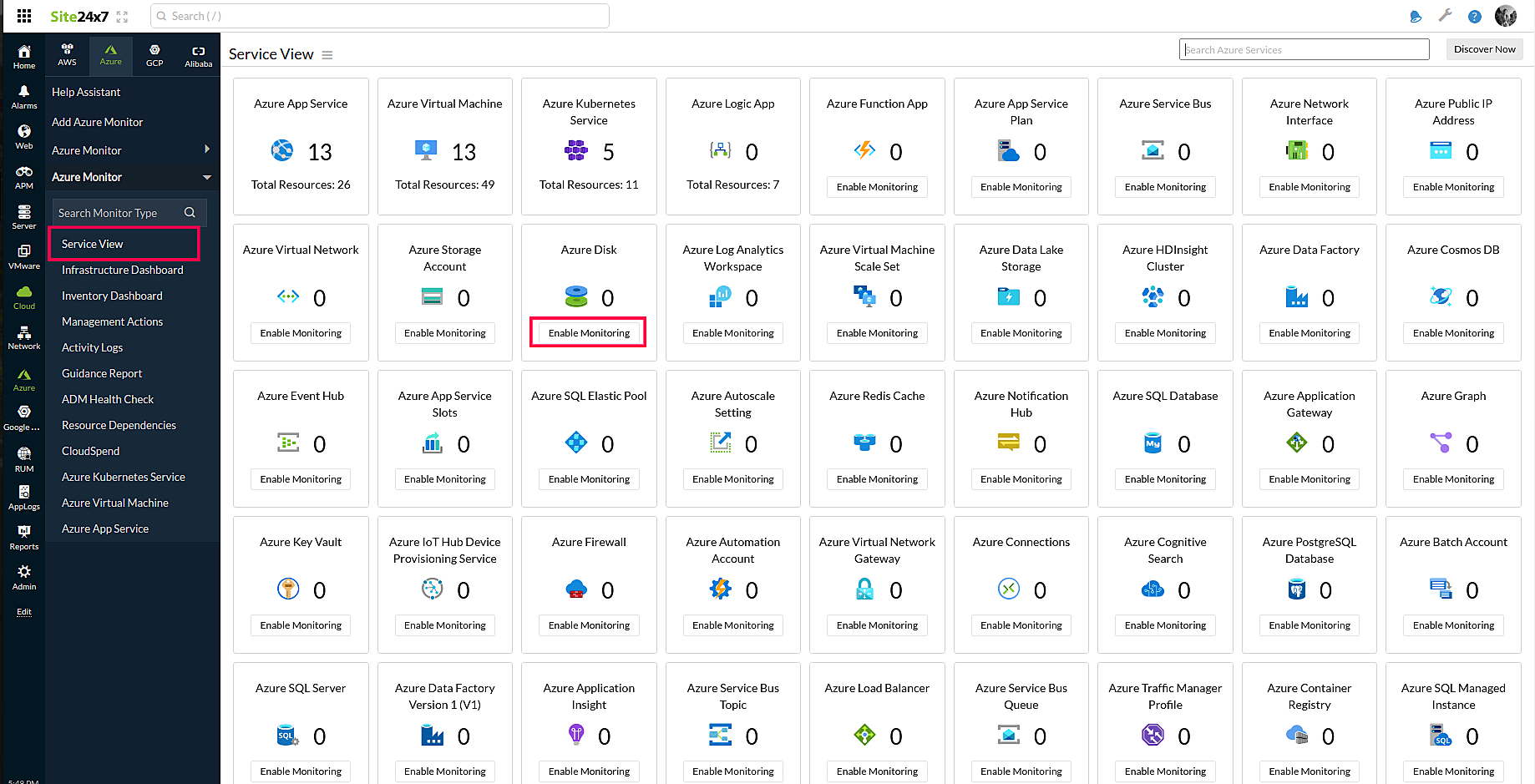 Using the Service View, you can see a list of the Azure services supported by Site24x7. This view shows the count of active resources monitored under each resource type in Site24x7. To get to the Service View of your Azure resources, go to Azure > Service View.
If the resource type is selected for monitoring in Site24x7, you can see the total number of resources in your Azure portal. Otherwise, you'll see the Enable Monitoring button.
You can instantly add a particular resource type for monitoring by clicking Enable Monitoring. Once the resource type is enabled, the resources will be added for monitoring in the upcoming discovery.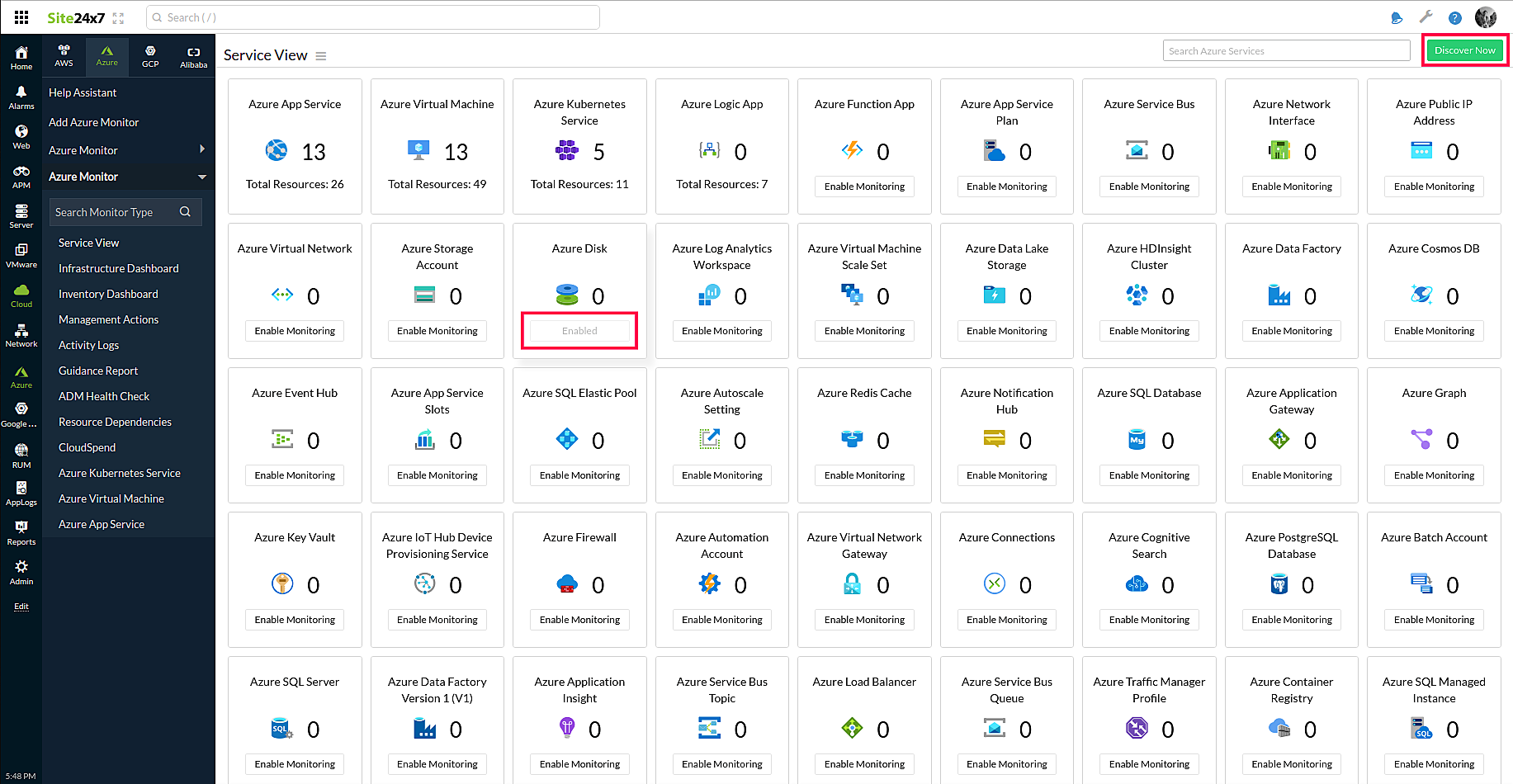 You can also trigger discovery manually by clicking the Discover Now button. Hover over the hamburger icon beside the page title to Edit, Suspend, or Delete the Azure monitor or to discover resources immediately.
Infrastructure Dashboard: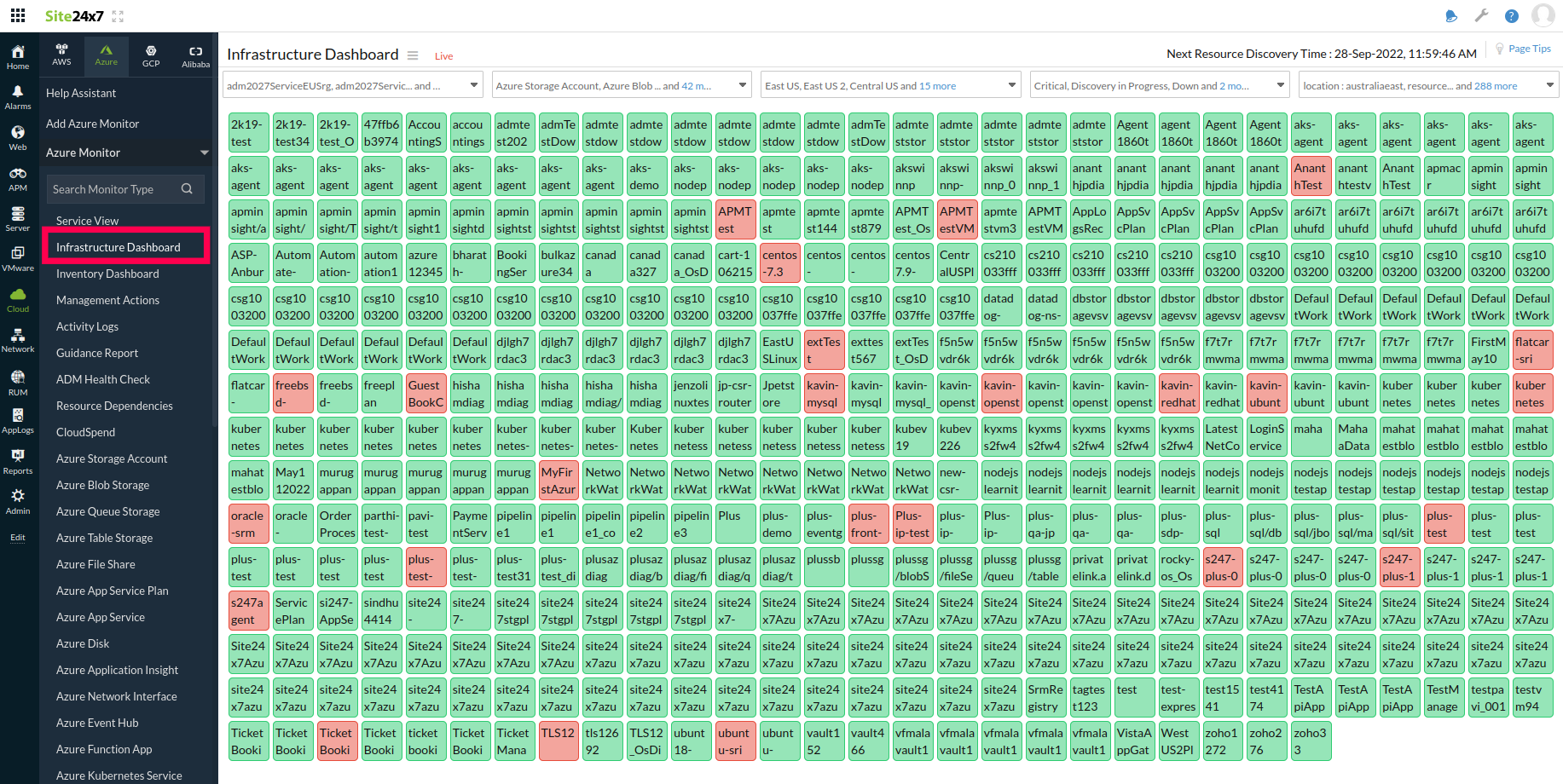 Once you've successfully added an Azure monitor, you'll be directed to the Infrastructure Dashboard. You can also access it by going to Azure > Infrastructure Dashboard. This represents a NOC view of all the Azure resources discovered in your account. You can Edit, Suspend, or Delete the Azure monitor and discover resources immediately by hovering over the hamburger icon beside the page title.
Highlights:
View all the Azure resources on a single dashboard.
View resources according to their status: Up, Down, Trouble, Critical, or Suspended.   
Filter resources based on their names, resource  groups, resource type, locations, tags, subscriptions, and status.
Click a NOC box to go to that particular monitor's Summary page.
Inventory Dashboard:
Like the Infrastructure Dashboard, the Inventory Dashboard gives you a view of the Azure resources discovered from your account. To get to the Inventory Dashboard, go to Azure > Inventory Dashboard.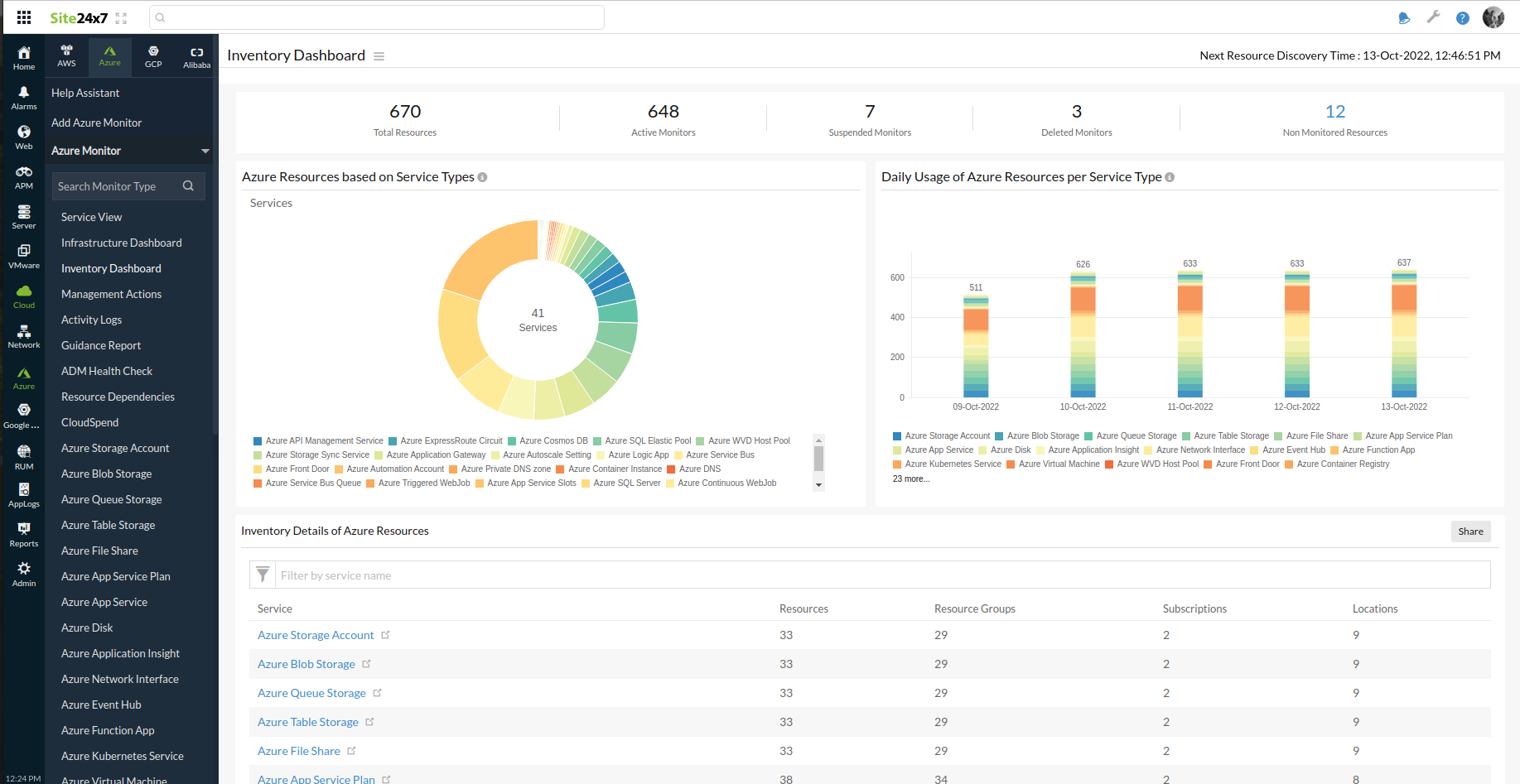 Highlights:
View all discovered Azure resources broken down by their respective resource type in a single pie chart. Hover over a section in the chart to get the resource count under a particular resource type.           
View the daily usage of critical resources for all resource types.  
Under Inventory Details of Azure Resources, get a tabular view of all your Azure resource types, along with their respective number of locations, subscriptions, resources, and resource groups. You can filter out resource types based on locations, resources, and resource groups. You can also use the Share button to export the details as a PDF, a CSV, or as an email notification.
View the total number of resources in your Azure account, as well as Active Monitors, Deleted Monitors, and Suspended Monitors, in Site24x7. The resources which are not monitored by Site24x7 will be listed under Non-Monitored Resources. On clicking it, you can select the required resources and add them for monitoring irrespective of the configurations that you have made under the Edit Azure Monitor page. You can also filter the non-monitored resources list based on the name of the resource, the resource group, the resource type, and location.

Zia Anomaly Dashboard
Site24x7's Azure monitoring tool is AI-powered and helps detect any unusual spikes or aberrations in your resource's critical performance attributes. This fine-tunes your resource performance and safeguards your Azure infrastructure from any unforeseen issues. To view the anomaly dashboard for Azure:
Log in to Site24x7 and go to Home > Anomaly Dashboard.
Select a time span from the Time Period drop-down. You can search for your Azure monitor's anomalies by looking up the name(s) in the Search Bar or by filtering it out based on the various severity levels.
You can view the Anomaly Summary graph for the requested time period and the specific reason for each detected anomaly (listed under Anomaly History). To gather further insight on the root cause of performance issues, click Analyze Root Cause, which is provided along with the anomaly description (under Anomaly History).
Custom Dashboard:
You can build your own dashboard that displays various key metrics across all your Azure resources. To start, navigate to Home > Dashboards > Custom Dashboards > + Create New.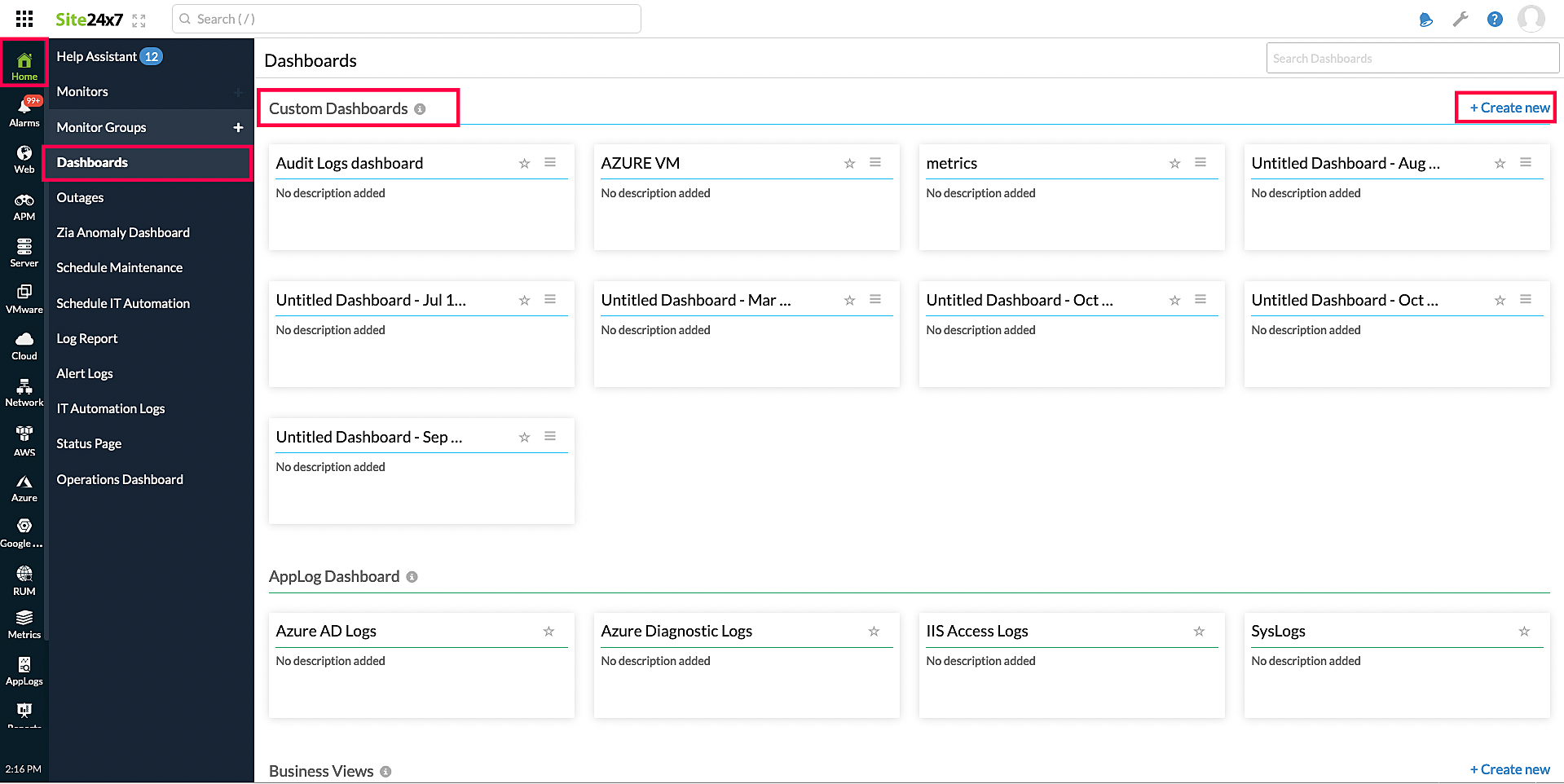 Provide a suitable name and description for your dashboard.
Under Widget Category, choose from Performance Widgets, Top N Widgets, or Current Status Widgets.
Select All Monitors under Filter Monitors by Monitor Group.
Under Monitor Type, select the desired Azure resource type.
Pick your Azure resources under Choose Monitors to create your dashboard.
Select the required Time Period and drag and drop the widgets onto the working space.
When you're done, click Done Customizing at the top of the page.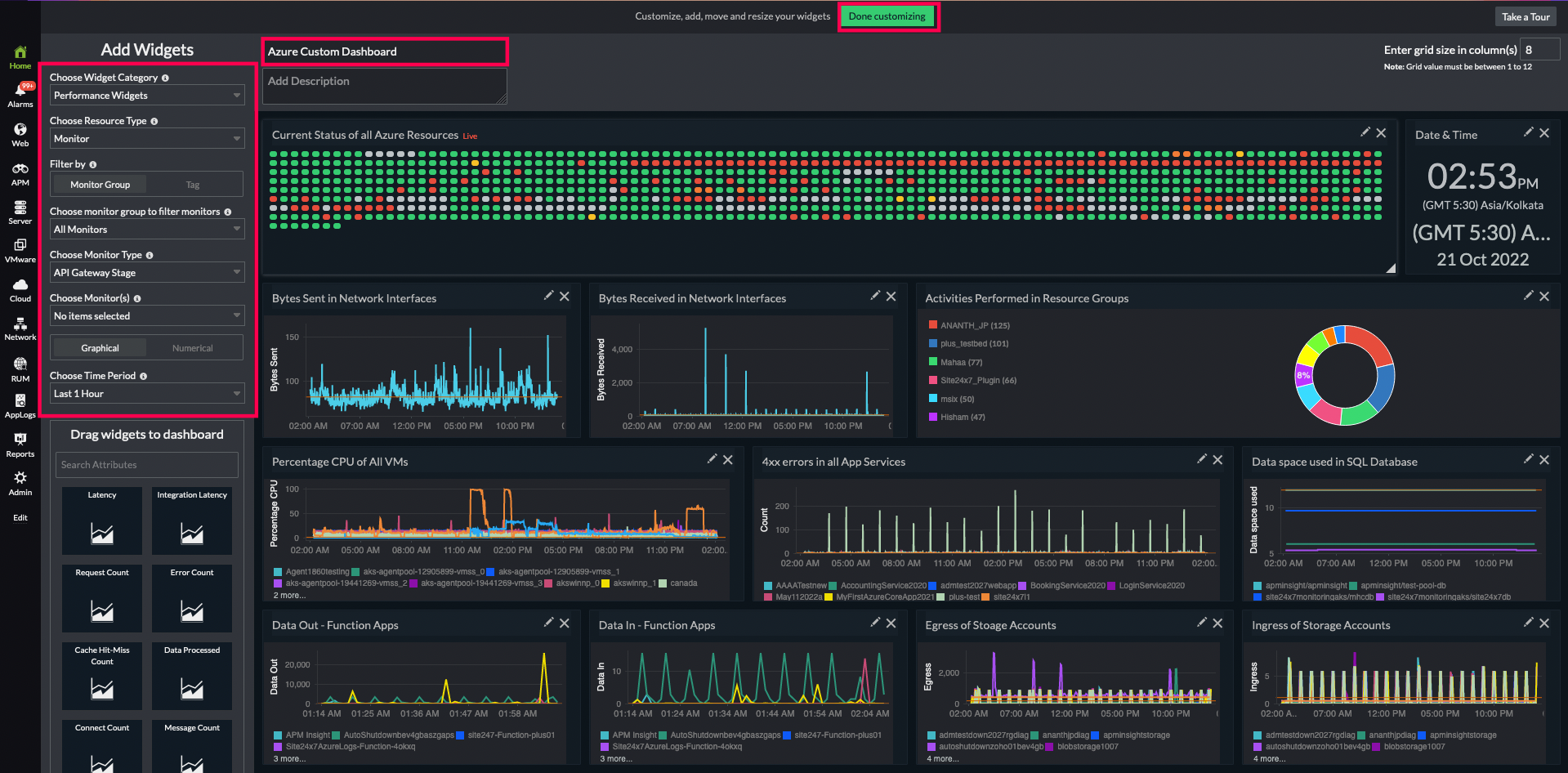 Customize your dashboards for convenience with multiple editing options as shown here: