Business Units
Business Units (BUs) allow grouping of one or more accounts and organizing them in a management hierarchy. Tracking cloud costs across various cost centers using inefficient tools or minimal cost tracking mechanisms tends to delay business decisions between teams. When an organization manages multiple cloud accounts, tracking cloud costs can be a lot of work. BUs help you view and analyze the shared IT expense across business cost centers.
You can create a BU for:
Functional levels, like sales, consulting, product development, and more.
Each combination of countries in which you operate and the functions in each country.
Your customers, as an MSP.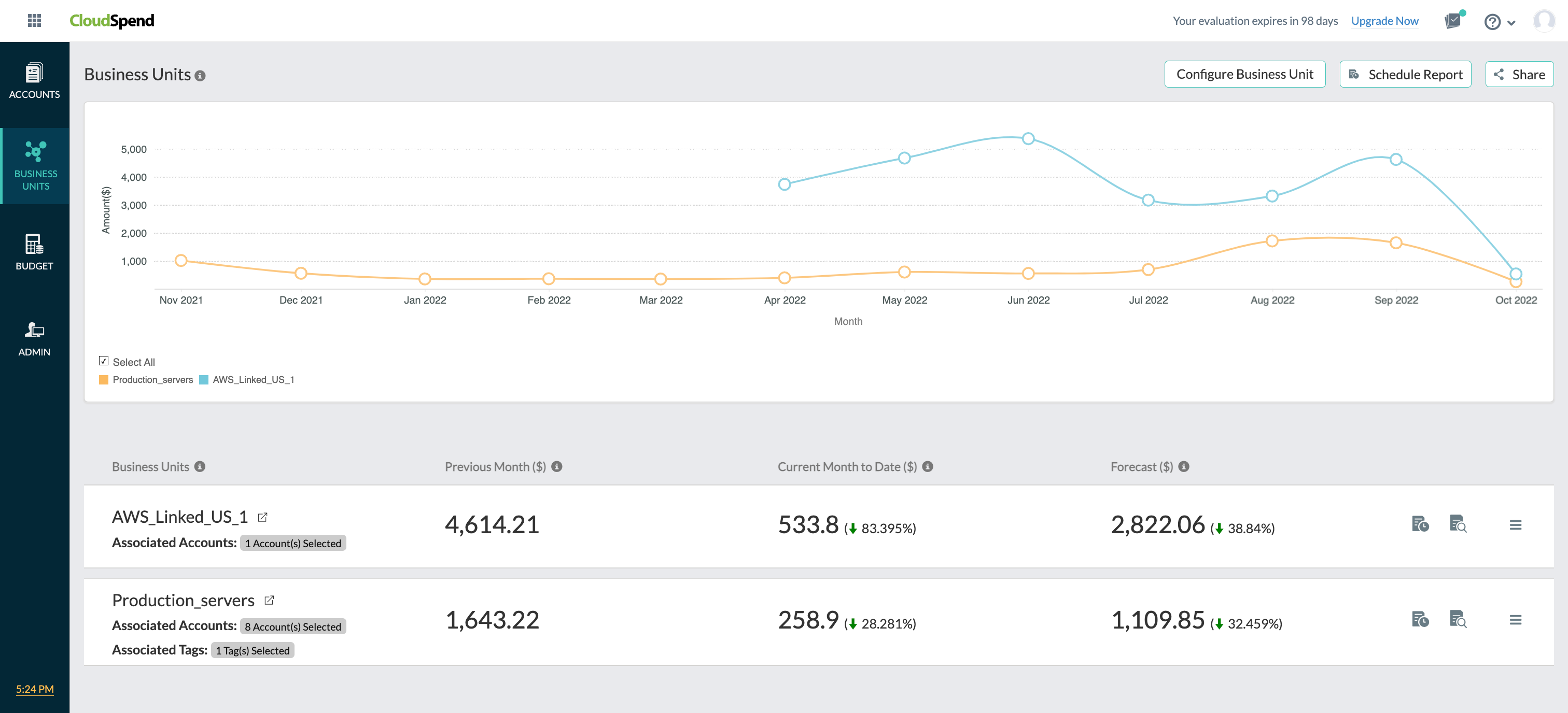 Fig. 1: Business units list view
Contents
Use Cases
Consider a scenario where you consume multiple AWS services in three different linked accounts—Test, Dev, and Prod—to build and ship a new application for a customer. You can also have a standard tag naming scheme (for example, naming projects by letter: Project X) for all the resources involved. Now, you can track the costs involved in the development of the app by creating a BU filtered with the common user-defined tag (Project X) and linked accounts.
For geographically distributed sales teams, to view costs accrued only for those teams present in the USA, you can select the teams located in the USA, and group them as a BU.
For a second project within your engineering team (we'll call this one Project Y), you can select specific accounts—say the accounts of the research and development team—within your engineering team to track costs using a BU.
Why Business Units?
The benefits of leveraging a BU include:
Tracking governance and compliance according to company standards.
Facilitating faster business decisions between finance and tech teams.
Allocating shared cloud vendor support charges between teams.
Improving managerial reporting and analytics with accessibility to global data.
Obtaining the right balance of centralized and decentralized functions, improving decision-making.
Learn more about utilizing BUs using CloudSpend by understanding cost analytics (spend analysis and resource explorer), budgeting, and cost reporting in the following sections.
Prerequisites
You'll need at least one cost account.
You need to have a CloudSpend role of Cost Administrator in your subscription account to configure a BU. Learn more.
For tags to appear, you must activate both types of cost allocation tags (AWS-generated tags and user-defined tags) separately in the Billing and Cost Management console.
Various tagging strategies are available for a BU, like built-in tags, tags at the resource-level, and tag profiles; they facilitate grouping of identical cloud costs. Check out the following section to understand each one of them.
Configure a BU
While you configure a BU, you can associate multiple accounts from the same team or cross-accounts with a BU. Utilize tags to group and analyze your cloud cost further. To configure a BU, you need to:
Log in to your CloudSpend account.
Choose Business Units in the left navigation pane.
Click Configure Business Units, in the top-right corner, opening the Business Units tab.
Provide a Display Name, and select the different Accounts that you wish to group as a BU. You can see a combined view of all the linked accounts associated with your organization in Accounts. If you haven't enabled consolidated billing, only a single account will be listed.
The Tags field allows you to group the BU according to various categories like Region, Operation Type, Data Transfer Type, Usage Type, Usage Info, Availability Zone, or other custom tags using Tag Profiles. You simply need to type into the Tags field for the suggestions to appear.
Click Save.
Edit/Delete a BU
You can modify or delete the BU that you created by following these steps:
Go to the CloudSpend console.
Choose Business Units from the left navigation pane.
Click on the hamburger icon against each BU on the right side.
Choose Edit or Delete from the menu drop-down list to modify or delete the existing BU.
If selecting Edit, in the following dialog box, make the necessary modifications for the BU, and choose Save.