Performance Metrics of Web Page Speed (Browser)
Interpret Web Page Speed (Browser) Results
Web Page Speed (Browser) allows you to extrapolate your website performance by providing a split up of your website component's load time, response time, status, component size and more using a real web browser. Additionally, get to know the HTTP protocol (version 1.1 / 2.0) that is being used to render your resource. The main dashboard has a custom status banner, which identifies the various configured monitors by segregating them based on their operational status and state. You can also view the number of operational monitors and alert credits remaining in your account. By clicking the "+ Buy More" button, you can purchase additional monitors and alert credits. You can share the monitor details via an email. Email can be sent to only those verified users who have agreed to receive emails from Site24x7.
Contents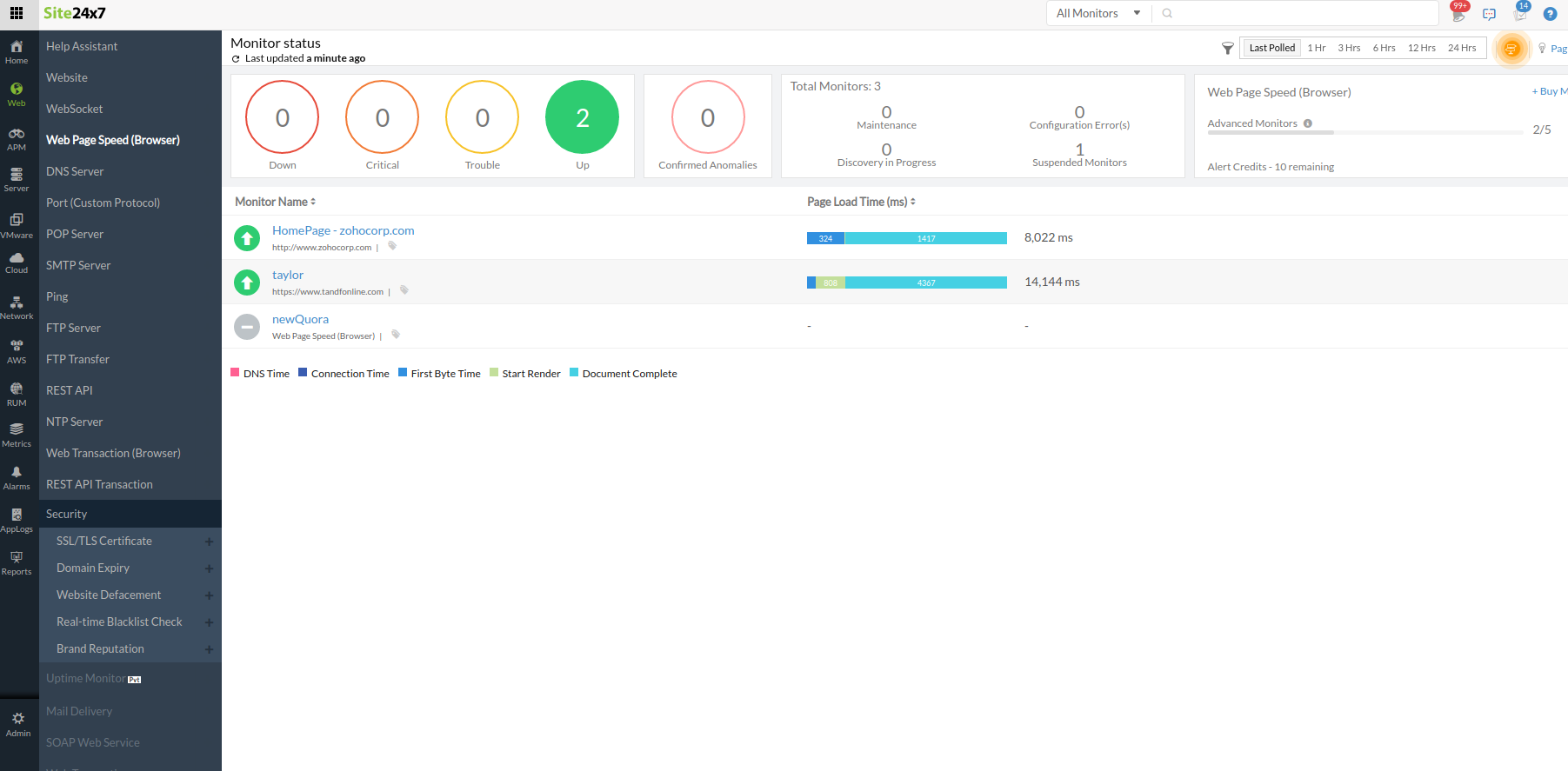 Events timeline widget records all the past events of your selected monitor for a selected time range. You can identify/decode various events from the past, which includes Down, Critical, Trouble, Maintenance, Suspended, or Anomalies. Each event are color coded for easy identification. Events can be drilled down to extract maximum data and facilitate easy troubleshooting. You can also track the actual outage period and the total outage duration during a specific block of time.

This section displays the historical information your website performance along with the availability, page load time, downtime duration, number of downtimes and SLA violation. The graph displays the page load time of various factors such as DNS Time, Connection Time, First Byte Time and Download Time, etc. It also shows you the maximum, minimum, average load times, and 95th percentiles (in milliseconds) of the webpage configured along with its Throughput values (in KB/sec). It also displays the global availability of the web page, if configured. 
Percentiles in Site24x7 can be used to find outliers. The 95th percentile is the value which is greater than or equal to 95% of the observed values of your polled data during the selected time range. In other words, 95% of the responses were faster than this value.
Average Page Load Time:

The details can be read using the legend given under the graph. To know more about detailed calculations, read this article. These legend details are explained in detail below:
DNS Time: The DNS Time is the time taken to resolve the domain name for the request. A spike in DNS Time indicates that is taking more time to resolve the domain.
Connection Time: The connection time is considered as the time taken by the client to establish TCP connection with the IP address of the domain. More time to establish a connection may be due to factors such as server overloading which can be identified and addressed before it affects end-users.
First Byte Time: The First Byte time is the time from when the connection to the server established until the first response starts coming in for the base page. This is actually the server response time plus network latency time. A spike in First Byte Time in your graph can indicate a delay in the processing of request in the server.
Download Time: Download Time is the time taken for the last byte of the base page to be received from the server. An increase in the Download Time in your Response Time Graph indicates an extra amount of content transfer that may be happening during the request or due to low bandwidth available for content transfer.
Start Render: The Start Render time is the time when some relevant portion of the webpage starts loading in the browser window. (i.e. the point at which the user is no longer seeing a blank white window).
Document Complete: Document Complete is the point where the page has finished loading the entire content. At this point the page is ready for user interaction.
Page Load Time: Page Load Time is considered as the total time taken to load the complete content of the response. 
Page load time details for web page elements like HTML, JavaScript, CSS, images etc. is shown in a waterfall model under this section. HTTP Status codes, size and page load time of each element is shown in detail along with breakup of the response time. This breakup includes DNS lookup time, connection time, first byte time, content download time, render start time and document complete time
If you've chosen your reporting period as Last 24 hours, Today, or Yesterday, then the Page Load Time Summary report will show you the actual page load time stats (RAW data) from your preferred location along with a dynamic water fall model during every data collection. Simply click individual data points in the Page Load Time graph to view the actual Page Load Time stats during that data collection. Similarly, if you want to see the page load time summary, domain summary and web page summary for the past seven days, click the View History link. To view request and response headers, click on the respective URL.

Unsecure Links: The number of URLs with HTTP or an unsecure connection will be listed here as Unsecure Links. 
You can now filter your resources using the drop-down option. The filters available are: All Resources, Top 20 Resources, Top 20 Resources by Size, Top 20 Images, Top 20 JS, Top 20 CSS, Unsecure Resources ( URLs with HTTP will be listed here), CDN miss Resources, and the various domains with the number of links embedded in it. The top 20 resources/ images/js/css /domains are selected by listing the resources with highest response time in descending order.
CDN Hit %: (Number of hits/ Number of links with hit and miss)*100
The allowed headers are: x-cache, x-cache-status, x-cache-hits, cf-cache-status, server-timing, x-proxy-cache, x-origin-cache, akamai-cache-status.
 CDN Hit will be declared if the header values are: HIT, HIT; HIT,MISS; MISS,HIT ; DYNAMIC ; H; 1,1; 1,0 ; 0,1; 1
 It will be a CDN Miss if the header values are: MISS,MISS; 0,0; 0
This section displays summary of all the elements of the web page that is being checked using real browsers. This summary will include number of requests sent before the page has finished loading, total number of objects in the page and the number of images, JavaScript and CSS included in the objects. This will also include the total size of the web page. Two pie charts; Content Breakdown by Requests and Content Breakdown by Size are displayed in the summary of the web page. 
Webpage Summary section will also show a screenshot of the webpage that is analyzed.
This section will show you the number of requests sent for each of the domains under a particular URL, the version of the HTTP protocol used to render the resource in our agent, and the response time for each of those domains.
For example:
Under the URL www.mysite.com, images are loaded from images.xyz.com, advertisement banners are loaded from ads.sample.com and so forth. Number of requests sent to each of these domains, HTTP version (1.1 or 2.0) and the response time taken by each of them is elaborated in domain summary section.
Other details that are included are size (KB) of each domain, average response time (in milliseconds) for each request and the average throughput value (content length/response time). 
You can view the overall response time history, including the Page Load Time Summary, Web Page Summary and Domain Summary for a specific poll during the last seven days. This data can be obtained from each of your monitored locations. Since the RAW page load time data is shown in this report, you can assign a specific date from the past seven days and click on a specific instant in time on the page load time graph to view the Response Time Summary waterfall chart for that time.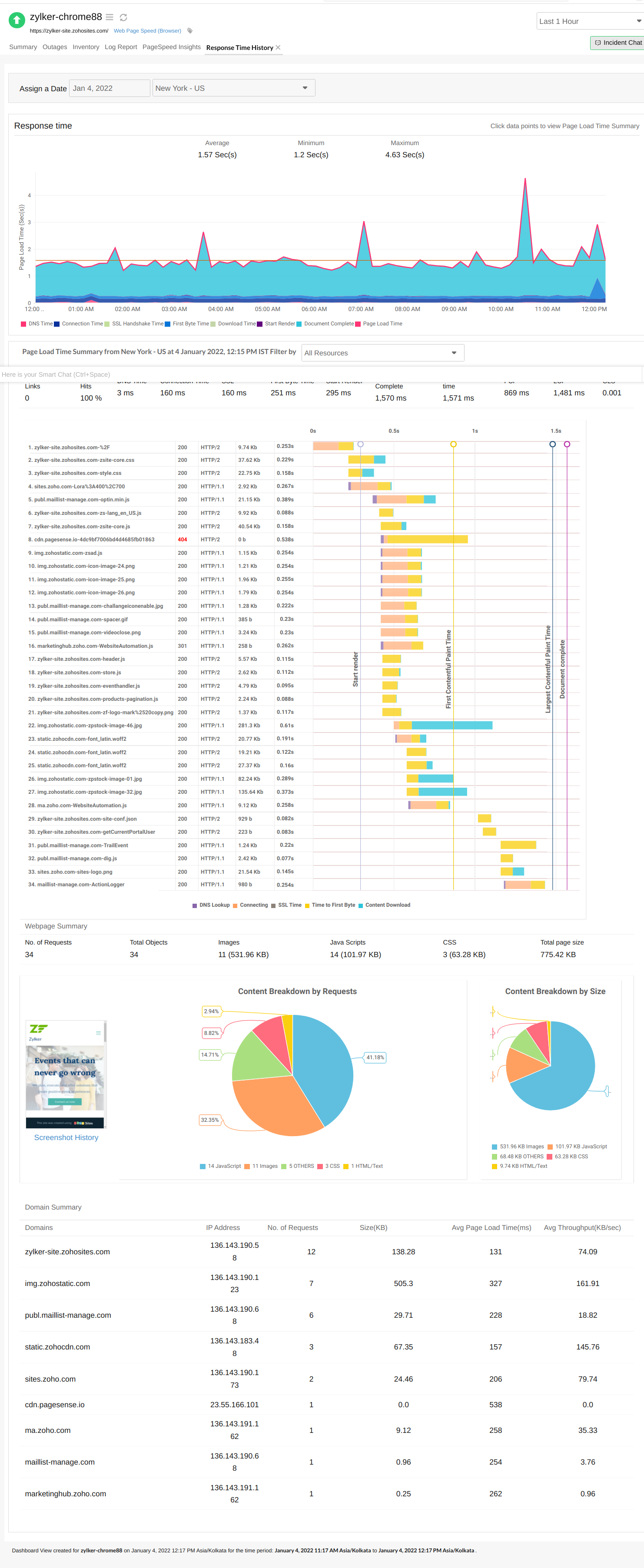 The PageSpeed Insights facilitate easy performance analysis of your web page and guides you with the right information to optimize your web page for better user experience. You can quickly isolate components that are slow or those that are big in size. You will be provided with all the best practices for better optimization of web pages that you might not be aware of. You can retrieve a PageSpeed Score based on the details like Page Load Time, No. of Requests, and Page Size. We grade the web page components (based on the PageSpeed Insight Rules) individually, on a scale of A to F, with A being labelled as the best performance.
| | |
| --- | --- |
| Performance Grade | Performance (in percentage) |
| A | >90 |
| B | >80 and <91 |
| C | >70 and <81 |
| D | >60 and <71 |
| E | >40 and <61 |
| F | <41 |
Additionally, you can use the View History link to view the PageSpeed details for a specific day during the past 30 days. The raw data can be downloaded as a HAR file.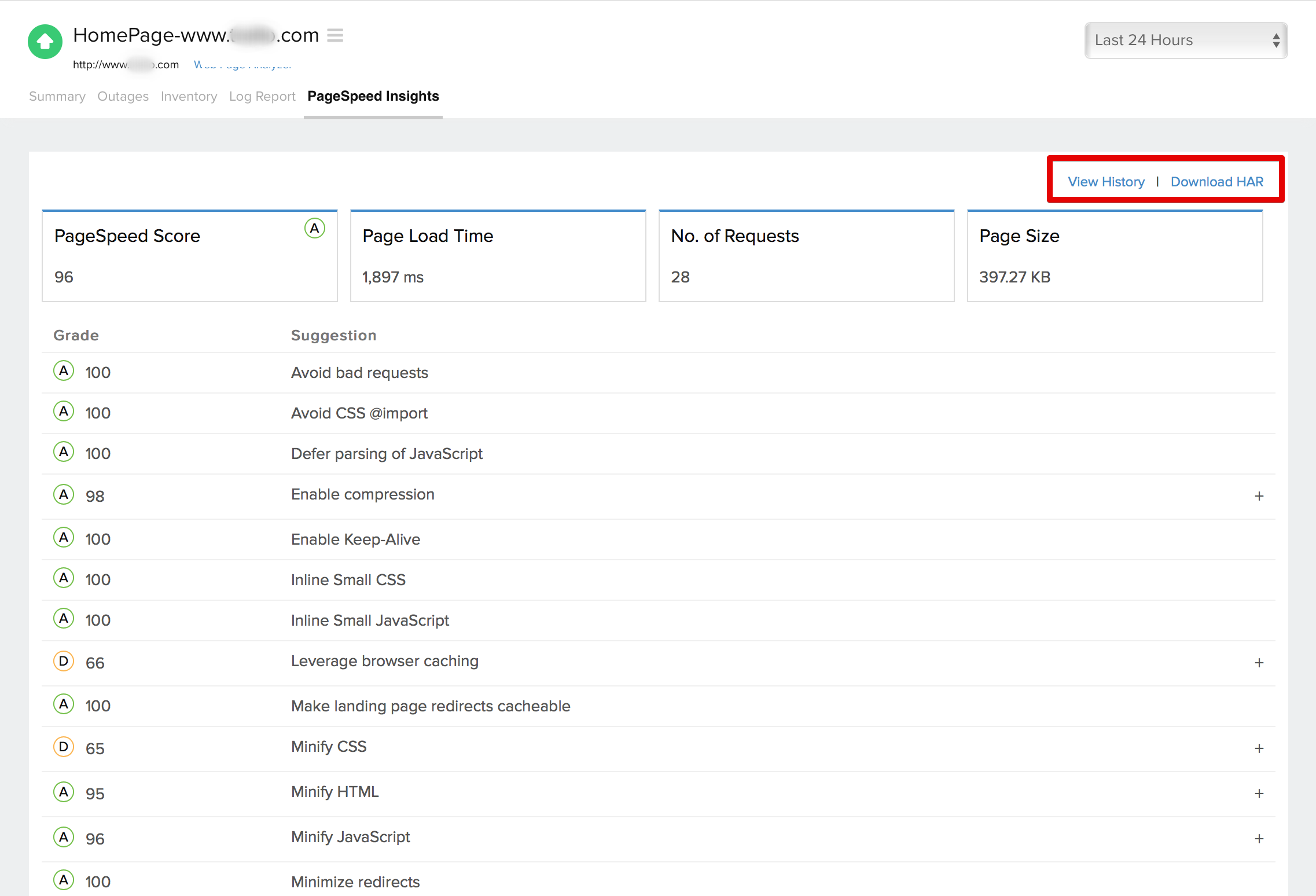 Availability and Page Load Time by Location
Location wise Availability percentage, Page Load Time (ms), Downtime Duration, number of Down times and Last Downtime details will be shown in table format. All the chosen locations will be included under Location.

Apdex Scores:
With our RUM integration widget, you can instantly use the Apdex industry standard for measuring the satisfaction of a user using your application or service, you can understand how your applications are performing from your users' perspective, i.e, "Satisfied", "Tolerating" or "Frustrated".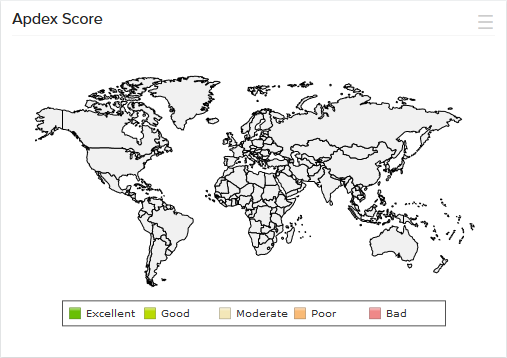 Performance Benchmarking:
The benchmarks widget is now integrated with-in the client letting you compare your website performance with industry peers. With our performance benchmarking widget, you can instantly view and compare your average response time and availability of your service with respect to your industrial peers. This can be viewed across various industrial verticals.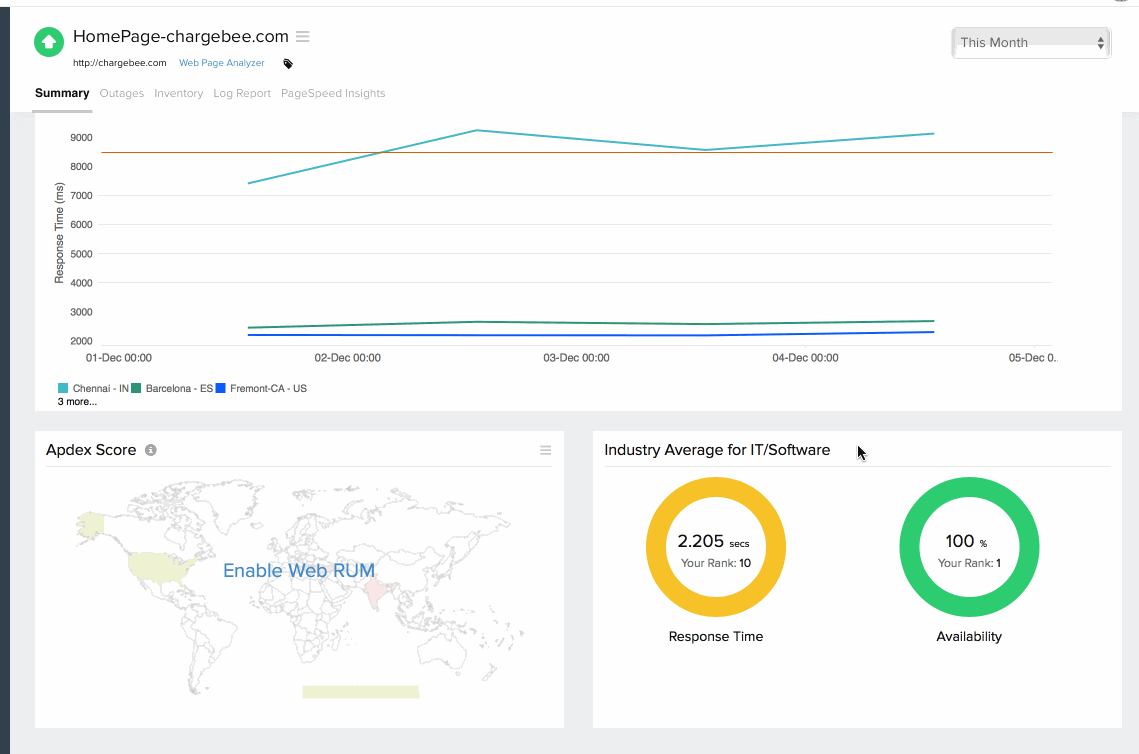 Outages
You can access the Outages tab in your monitor's details page to gather detailed insights on the various outage and maintenance downtimes. It provides you with sufficient information to troubleshoot issues. You'll also be able to access the root cause analysis reports for your various outages. On accessing the 

 icon of a listed monitor outage or maintenance, you'll be shown the options to: 
Mark as Maintenance: Mark an outage as Maintenance
Mark as Downtime: Mark a Maintenance as Downtime
Edit Comments: Add/Edit Comments
View HTML: View the error response in HTML format obtained during a failed content check
View Image: View the RCA screenshot for the outage
Delete: Delete an Outage/Maintenance permanently
Root Cause Analysis (RCA) Report:
You can retrieve indepth root cause analysis report for your DOWN monitors after 150 seconds of the monitor reporting the outage. RCA Report gives basic details about your monitor, outage details, recheck details and reasons for the outage. Root Cause Analysis automatically generates a plethora of information to arrive at a definite conclusion as to what triggered a downtime. RCA intends to determine the root cause of specific downtime or performance issue. A normal RCA report will comprise of the following details:
Checks from Primary location and re-checks from Secondary location.
Ping Analysis
DNS Analysis
TCP Traceroute
MTR Report
Conclusion
Read this
article on RCA
to learn more about the various network diagnosis reports.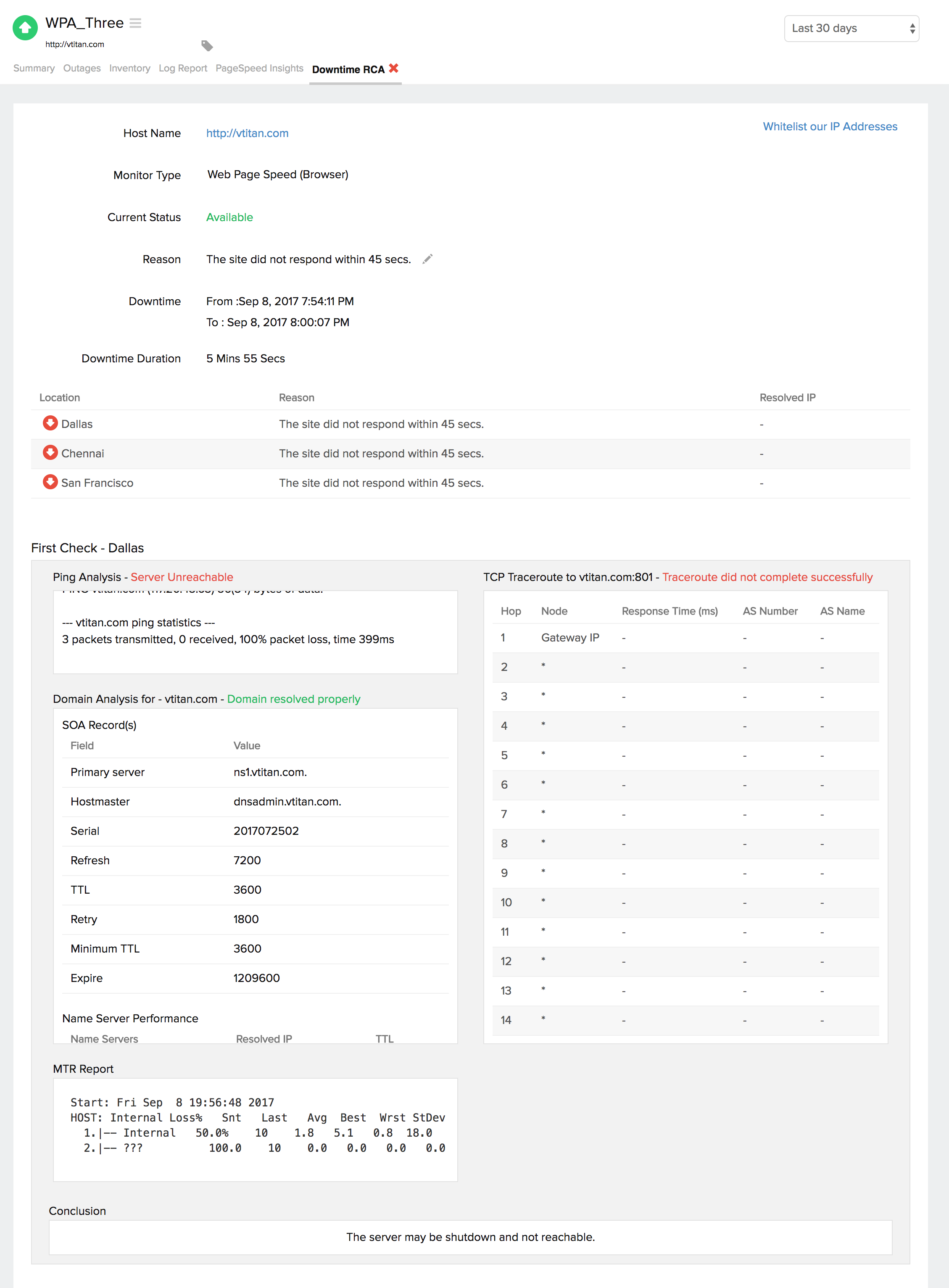 Inventory and Notes:
This section captures the basic monitor information and also its various configuration settings including polling locations, poll interval, licensing type, and more.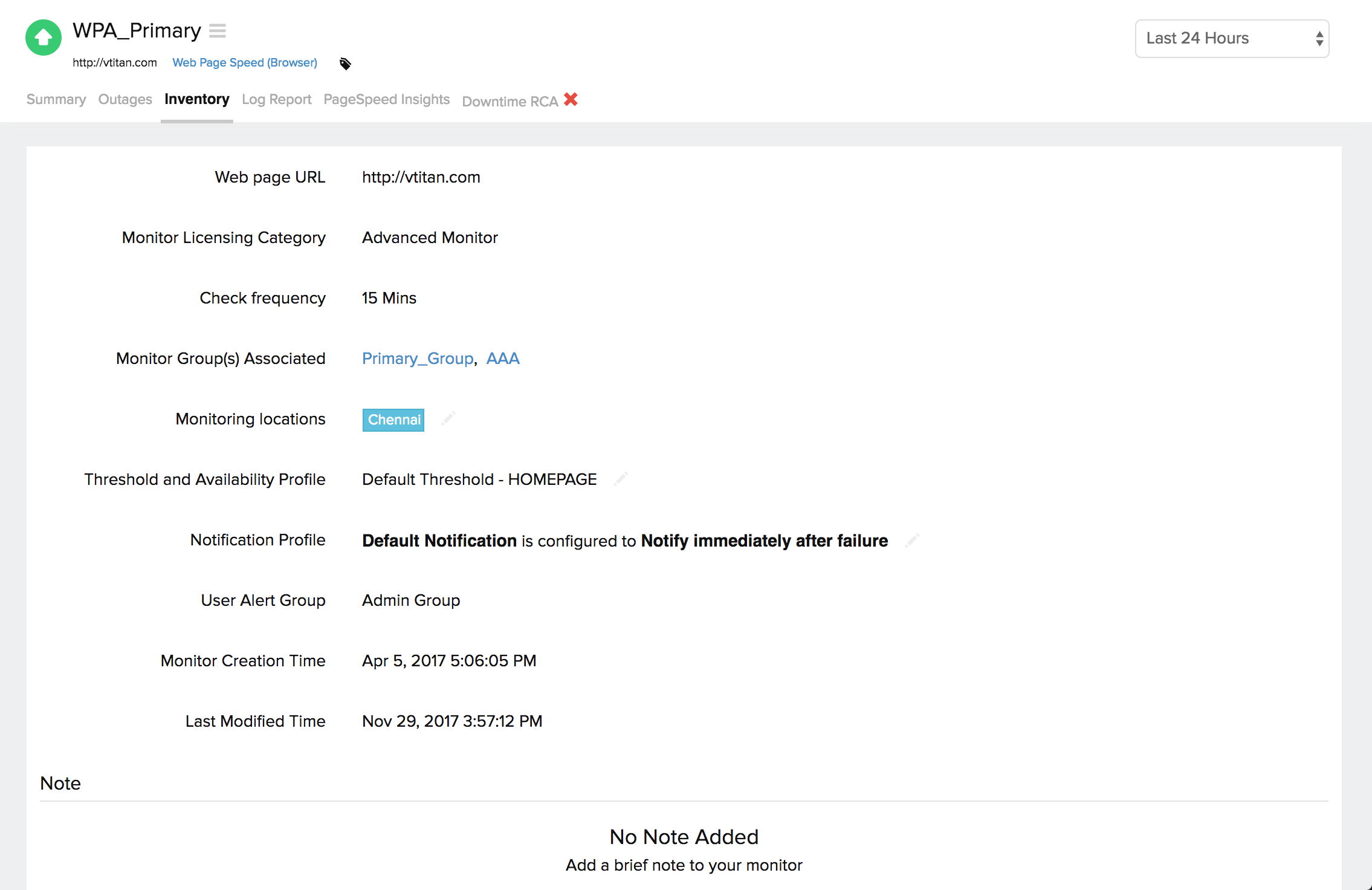 Log Report:
With our integrated log records for individual monitors, you can get an indepth knowledge about the various log details for the configured monitor, over a custom period. You can also filter the log based on location and availability. Various data including availability status, HTTP status codes, DNS response time etc. are captured here. You can also export the log report in CSV format.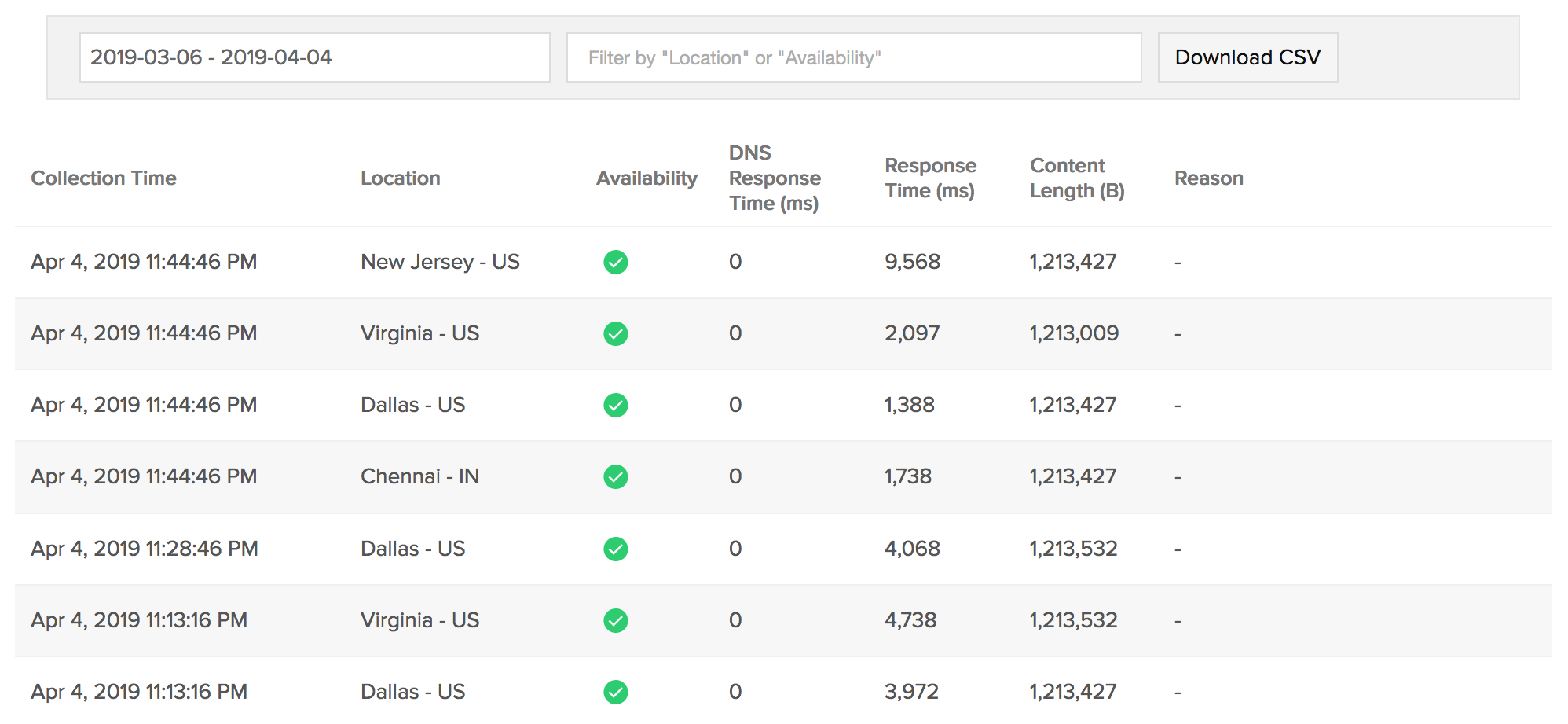 Analyze Web Page Speed