Security Reports
Obtain reports related to monitors including SSL/TLS, Brand Reputation, and Real-time Blocklist. Click the Share This button to send the reports as an email, CSV file, or PDF.


SSL/TLS Low Grade Report
The SSL/TLS Low Grade report provides detailed information on the domain names with a B grade or below, including:
Domain Name: Names of the domains under monitoring.
Grade: The respective grade of that domain.
No. of vulnerabilities: The number of vulnerabilities found while monitoring that domain.
Days Left for Expiry: The number of days left before the SSL/TLS certificate expires. 

Brand Reputation Report
This report offers various information, including:
Website: The URL that is monitored.
Malware: This field displays whether the website has malware content or not. The URLs mentioned in the Web Risk list as having malware content will be marked in red.
Phishing/Deceptive: This field sheds light on whether any phishing or deceptive attacks were carried out on the website. A green tick denotes that a phishing or deceptive attack wasn't detected. The product will cross-check URLs with the Web Risk list before listing a URL here.
Unwanted Software: This field denotes whether the website has any unwanted software. The URLs will be cross-checked with the Web Risk list, and if the URL is listed as having unwanted software, it will be marked in red in the report.

Real-time Blocklist Report
Hostnames & IP addresses: The names of the hosts and the IP addresses.
Monitor Name: The names of the monitors.
Status: The status of the monitors. If the IPs or hosts are blocklisted, they'll be marked in red; the report will also display the date and time of blocklisting.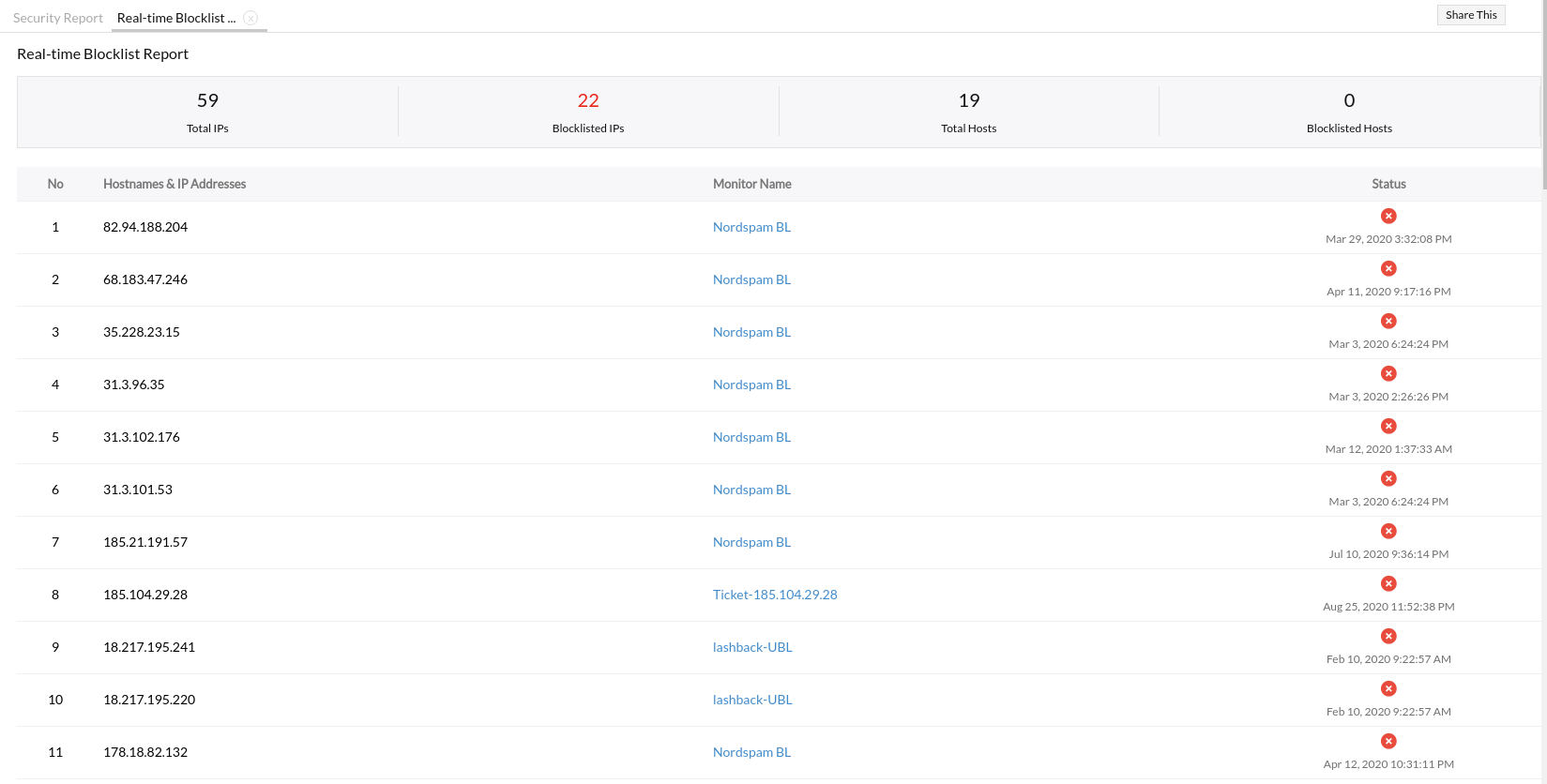 You can also obtain the total number of IPs and hosts, as well as the number of blocklisted IPs and blocklisted hosts, from the top band of the report.