Server Reports
Site24x7 Server Monitoring provides exclusive reports to easily understand the collected performance data, analyze trends, and identify performance degradation issues. In addition to the common reports available for all monitor types in Site24x7, server monitoring has some exclusive reports. They are:
Log in to Site24x7 and go to Reports > Server Monitor to access these reports. Choose the All Server Monitors option from the Monitors/Tags drop-down for a preset time period to view data across server monitors in your account. Click on the Share This button to export these reports as CSV, PDF, or send it via email.  
Server Disk Partition Report
Know the used and free disk space across servers/for two or more servers in your account. This can help identify the partition that is using up lot of space/has a lot of free space and perform the required action (eg. clean up) by going to the respective server (click on the monitor name under Monitor).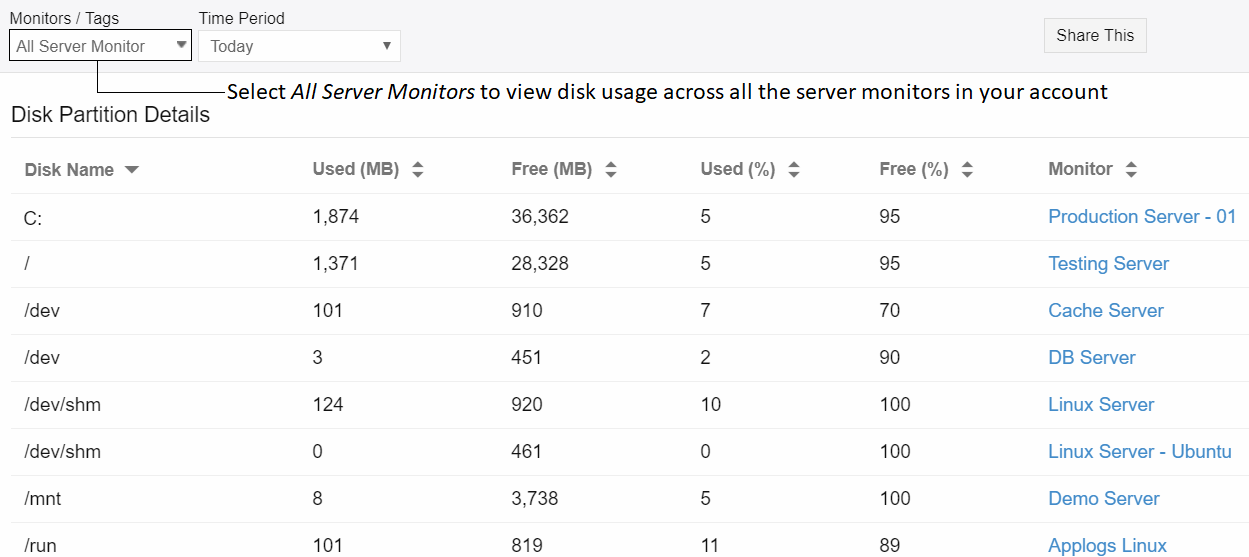 Server Network Adapter Report
Get a consolidated list of network adapter details like the total amount of data and packets sent and received across servers/for two or more servers in your account. This helps in forecasting the current and future consumption of bandwidth to maintain network performance of your servers. 

Agent Inventory Report
View all servers monitored in your account, based on their agent version, IP address, OS type, associated threshold profiles and configuration templates. Use the Search Filter bar at the top right corner to quickly view servers based on thir version, OS type, or associated profiles. 

Services and Processes Reports
The Server - Services Report and Server - Processes Report lists down the Windows services and Linux processes respectively across servers/for two or more servers in your account. 

Top N Reports 
The Top N Reports lists the top 'N' resources with the highest values. The resultant data is displayed in a tabular format in descending order of the monitored parameter. Site24x7 provides Top N Reports for CPU, memory, and disk usage. It lists the top 5, 10, 20, 25, 50, 100 servers having the highest CPU, memory, or disk usage for a preset time period. For example, the below screenshot lists the top 5 servers based on disk usage in the last hour:

Related Articles