Performance Metrics for Windows Server Backup Monitoring
Monitor the status of your backups, events, disk usage, and policy schedule details - all in one dashboard. The Windows server backup monitor uses the Site24x7 Windows agent for monitoring, i.e. they will be auto-discovered and added for monitoring once the Windows agent is successfully installed. 
Once the Windows server backup monitor is successfully added to your Site24x7 account,
View the status and backup summary for Windows backup monitors. Log in to Site24x7 and go to Server > Windows Server Backup.
Add a Threshold and Availability profile to declare a specific resource as critical or down. Go to Admin > Configuration Profiles > Threshold and Availability (+).
Analyze trends and identify performance issues with exclusive performance reports.
View key metrics in a single glance with the server inventory and health dashboards, or create your own.
Interpret Windows Backup Metrics
Monitor Overview
| | |
| --- | --- |
| Parameters | Description |
| Last Successful Backup | The time stamp and the target path for the last Windows backup job that was successfully performed |
| Backups Summary | Total number of backups, the latest and oldest backup copy time are provided  |
| Status of Recent Backups | The status and the result of the last ten backups performed |
| Backup Events | A count of information, warning, and error events occurred in the backups  |

Disk
Parameters
Description
Top Disks by Usage
The top 10 disks using up maximum disk space 
Disk Details: 
Name
Name of the disk partition
Capacity
The total capacity of the disk partition in GB 
Used Space
The space used by the disk partition in GB 
Free Space
Free space available on the disk partition in GB 
Action
Thresholds can be set for each of the disk partitions and automation can be mapped, if any. 

Policy Schedule
| | |
| --- | --- |
| Parameters | Description |
| Backup Time  | The time that a Windows backup job is to be performed  |
| Backup Targets  | The path to the destination folder(s) where the backup files will be stored |
| Volumes to Backup  | The volumes that need to be backed up  |
| Components to Backup  | The components that need to be backed up  |
| VSS Backup Settings  | Specify either a VSS full backup or VSS copy backup  |
| Files to Backup  | The files to be backed up are listed  |
| Files to Exclude  | The files that will be excluded from backup  |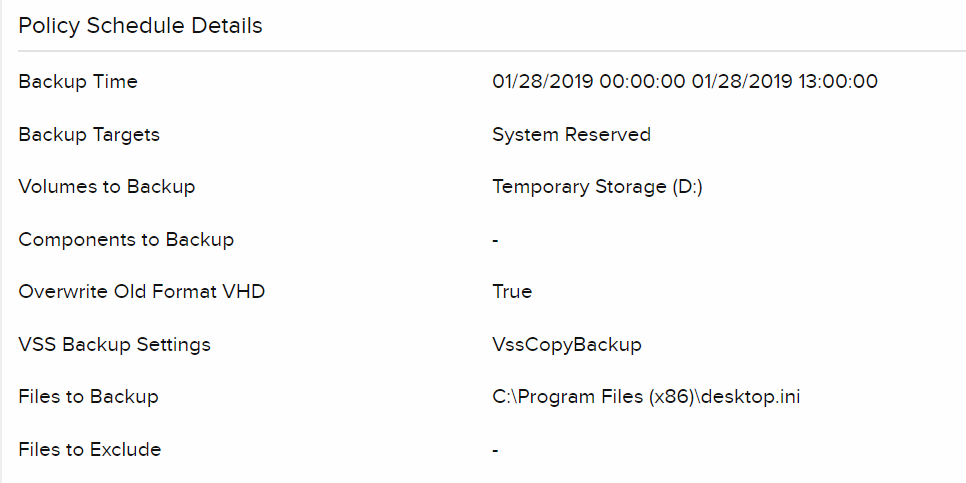 Performance Reports for Windows Server Backup
Log in to Site24x7 and go to Reports > Windows Server Backup. The following reports are available:
Availability Summary Report
Busy Hours Report
Health Trend Report
Performance Report
Related Articles