On-Premise Poller
On-Premise Poller, our lightweight agent, helps monitor your internal network and resources behind a firewall or virtual private network (VPN). It can monitor data center components and intranet applications like blogs, payroll applications, ERP systems, network devices, and database servers. You can install On-Premise Poller in various branch offices within a distributed organization, and monitor the user experience from each of these branch offices.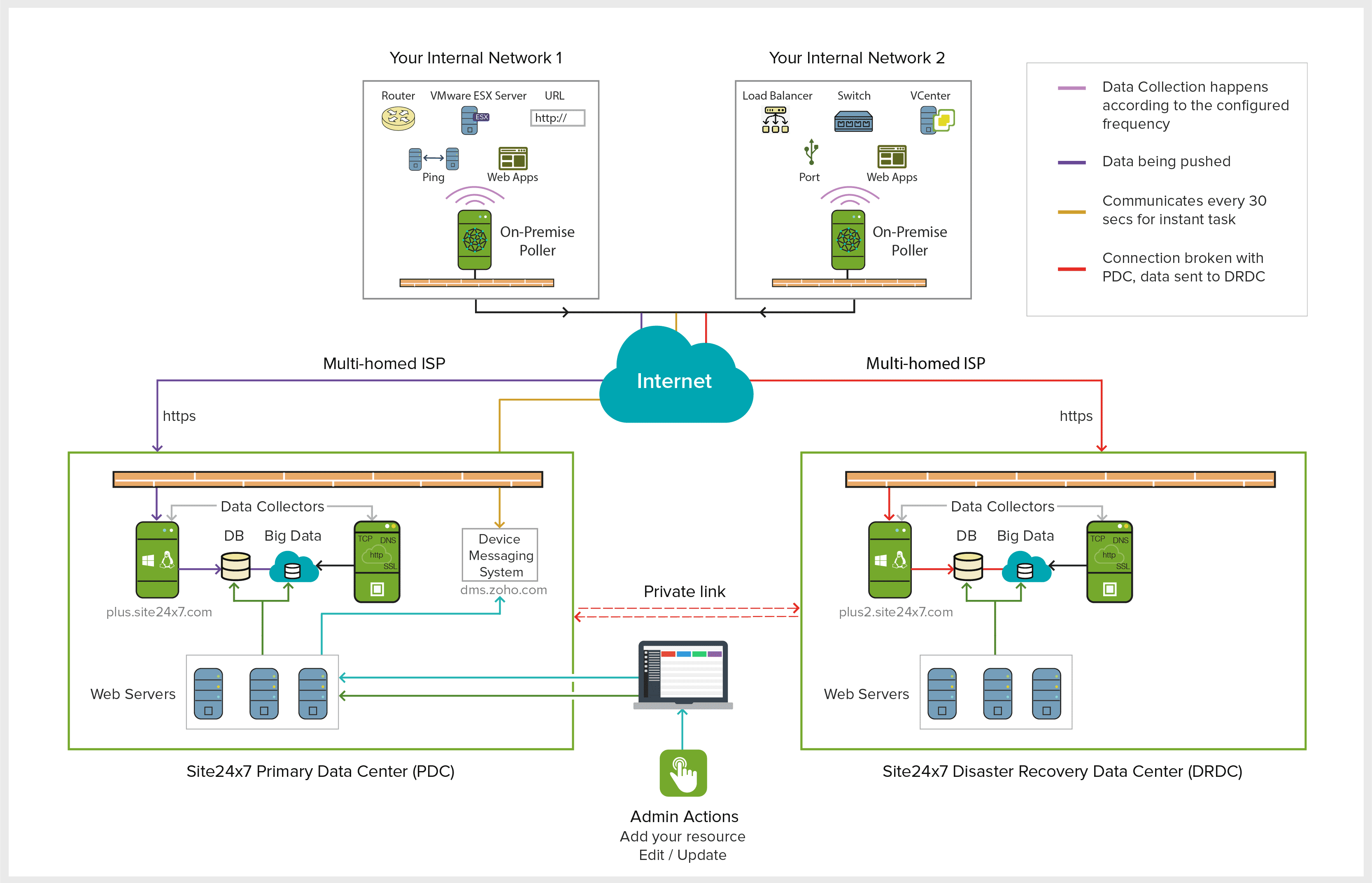 On-Premise Poller Architecture
Once you've installed On-Premise Poller in your network, it will collect data according to the set poll interval and send that information back to the Site24x7 data collector. You can then run reports on this collected data.
Apart from data collection, On-Premise Poller can also notify you about downtime within one minute after a monitored resource in your network goes down.
Below, you'll find a list of VMware infrastructure components, internet services, and network devices that On-Premise Poller can monitor. You can also monitor your remote work infrastructure with Site24x7.
VMware infrastructure:
Nutanix infrastructure:
Network devices (only in the 64-bit version of On-Premise Poller):
Routers
Switches
Firewalls
Load balancers
Wireless devices
WAN accelerators
Printers
UPSs
Storage devices
Voice over Internet Protocol (VoIP)
Monitor the quality of VoIP calls using various metrics that determine the quality of the calls over a call path. Assess the performance from a source to a destination and vice versa to obtain a complete picture of performance over the designated IPs.
Server Monitoring - Agentless
The On-Premise Poller can monitor your servers via SNMP or WMI. If you opt for SNMP, you must ensure that every Windows server or Linux server has enabled SNMP. On the other hand, if you opt for WMI, you must ensure every Windows server has configured WMI. After this, the On-Premise Poller can communicate with the servers to collect data and send it to Site24x7 for monitoring.
Learn more about the metrics that come with agentless server monitoring.
For a detailed comparion on the metrics that come with agent-based and agentless server monitoring, click here.
Websites
Port (custom protocol)
Web transaction monitors
Ping monitors
SSL/TLS certificates
Web transactions (using a real browser)*
POP servers
FTP servers
SOAP web services
REST API
Web transactions (using a real browser)*-Selenium WebDriver
DNS servers
SMTP servers
FTP transfer monitors
NTP servers
Web page speed (using a real browser)*
REST API transaction
On-Premise Poller can also act as a custom monitoring location. In other words, you can install and use an On-Premise Poller as a geographical monitoring location that isn't supported by Site24x7.
| | |
| --- | --- |
| Parameters | Minimum requirements |
| OS | All Windows and Linux operating systems, including 32-bit and 64-bit |
| RAM | 8 GB |
| Processor | 4 processors |
| Disk space | 80 GB |
These minimum requirements hold good for monitoring a maximum of 400 VMware monitors, 500 internet services monitors, or 40 real browser monitors with one-minute polling interval.
**The web transaction (browser) and web page speed (browser) are only supported in the Linux flavor of On-Premise Poller; however, there are
certain prerequisites
.
Learn how to add On-Premise Poller.
Make sure that your On-Premise Poller is updated to the latest version for the latest features and enhancements. Refer to the release notes for the latest updates.
You can also configure a standby On-Premise Poller and ensure high availability.
Related articles